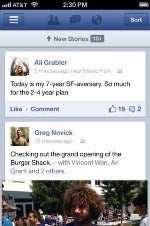 Facebook has completely rebuilt its iPhone app, making it much faster at loading status updates and scrolling through news feeds.
Android users, however, will have to wait for a better Facebook experience.
The key difference in the new Facebook iPhone app is that it's written in native code, rather than HTML5. Although HTML5 allowed Facebook to write its app once and ship it across multiple platforms, it also slowed the apps down, hence the notorious Facebook loading spinner.
The new app is much faster, even on my old iPhone 3GS. New status updates still take a few moments to load, but I've yet to experience any of the serious hang time that afflicted the old iPhone app.
The iPhone app's interface is mostly unchanged from previous versions, but a "new stories" notifier appears at the top of the news feed, which loads more updates when you tap on it. Photos can also be dismissed with a downward swipe.
I own a Galaxy S II in addition to the iPhone 3GS, so I compared the old HTML5 Android app to the new native iPhone app side by side. Status updates took much longer to load on the Android app, and photo viewing was unreliable, at times failing to load thumbnails or images. It's a reminder of how dismal the Facebook app has been on both platforms for the last few years, and how HTML5 just isn't good enough in its current state for mobile apps like Facebook.
When will Android users get a native app? Facebook isn't saying, and according to Business Insider, Android development has been somewhat of a struggle for the company. Unnamed sources said Facebook had to pressure employees to give up their iPhones for Android phones, just to make them suffer through Facebook's sub-par Android app as motivation.
In any case, a blog post about the new iPhone app from Facebook's Jonathan Dann bodes well for Android users: "The development of this new app signals a shift in how Facebook is building mobile products, with a focus on digging deep into individual platforms," he writes. Seeing as Android is in the lead for smartphone market share, there's a good chance it's next in line for an overhaul.
Follow Jared on Twitter, Facebook, or Google+ and follow Today@PCWorld on Twitter for even more tech news and commentary.