Microsoft's move to shed its Darth Vader logo of 25 years for a more friendly company brand appears to be attracting more stings than congrats.
Redmond raised the curtain on its new corporate crest on Thursday. The new logo has the familiar four color squares arranged in a two-by-two matrix found in past versions of the Windows logo and the word Microsoft in a lightweight, sans serif font called Segoe.
As is the case in design changes for anything—be it a magazine, a software interface or website—Microsoft's move was a magnet for passionate comments.
"Would someone please call the branding police and have them arrest Microsoft's entire executive team," Joe Wilcox declares in Betanews. "The charge: Indecent logo."
"I'm all for a brave new look, except there's little brave or memorable about this one," he adds. "Apple should call a holiday and give out champagne to celebrate. This is one big branding frak up."
Branding blogger Armin Vit, though, maintains that Microsoft got its redesign right. In his Brand New blog, he praises the use in the new logo of the four color squares cribbed from past Windows emblems but deserted in the new branding for Windows 8. That redesign also had its share of critics.
"Microsoft's 1987 logo, and its earlier iterations, have that World-Domination-Consumers-Are-Our-Minions attitude to them that was the norm for corporations that did indeed [want] to dominate the world," Vit writes.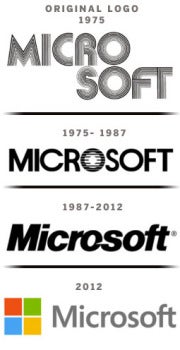 "[W]e all hate those kind of companies now and is the main reason why pretty much every company in the Fortune 100 has switched from logos that use big, bold, all-uppercase wordmarks to friendly, approachable, light, all-lowercase wordmarks you would want to share a beer with," he adds.
"It's also smart," he continued, "because the Windows logo has probably more recognition than the corporate logo as it has sat in billions of personal computers since 1995."
Even Vit acknowledges, though, "There is absolutely nothing wrong with this logo but there is also nothing absolutely exciting about it."
Nor is there anything distinctive about it either, according to Sagi Haviv, whose design credits include logos for the Library of Congress and Armani Exchange. "It needs to be unusual enough to persist in the mind," he tells Mashable. "Those four squares —it's very inert. It just sits there. It has no motion, no tension—it's not dynamic in any way."
A similar verdict was handed down by Terry Heckler, founder of Heckler Associates, a branding firm in Seattle. "It's awfully bland, particularly if you saw it in one color," he tells the Seattle Times.
As much as an improvement the new logo may be compared to the old one, there's still something unsettling about it, Chris Matyszczyk notes in his Technically Incorrect column.
"Yes, it's a welcome change from the blocky italic that leaned into you like a henchman and gruffed: 'You'll buy my product, whether you like it or not.'" he writes. "Yes, it suggests that the company wants you to see it as more human, more modern and more willing to be welcoming. And yet, my own impression was that there is still something a little too cold, a little too calculated about this new design…."
Follow freelance technology writer John P. Mello Jr. and Today@PCWorld on Twitter.