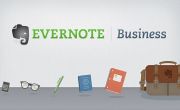 Evernote has long been a popular tool for business users, offering easy capture and management of notes, ideas, documents, and the like.
Now, Evernote is getting its business bona fides: The company just announced the aptly named Evernote Business.
Designed for small and mid-size companies, the new service promises the same free and Premium features as Evernote proper, plus a wealth of extra goodies catering to admins and owners. Among the highlights:
Admin Console Administrators get access to an admin console that lets them manage their company data and who has access to it.
Powerful Sharing Businesses can create a Notebook directory that contains content important to all employees. In addition, employees can publish notebooks to the business directory to collaborate with others in the organization.
Smart Data Ownership Any content that is placed into designated Evernote Business notebooks within user accounts is managed and owned by the business. Anything created and stored in a user's personal Evernote account is controlled by the user.
Easy On-boarding Once a company is set up for Evernote Business, employees can upgrade their Evernote accounts simply by entering their business email address.
Evernote Business customers will also get a "dedicated customer service manager" who's available by phone to help answer questions and provide general support.
The service will roll out this December, with flat-rate pricing of $10 per user per month. What do you think? Is that a worthwhile investment, or can your business get by on Evernote, er, Regular?
While you're mulling that over, be sure to check out three smart ways to use Evernote in business. Also, here's the Evernote Business promo vid if you're interested: