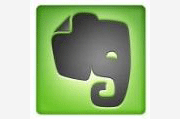 Popular productivity app Evernote is targeting small companies with the launch of Evernote Business, while bridging the gap between paper and digital notebooks. Evernote Business beefs up Evernote's collaboration features while adding administrative capabilities to help companies manage users. "Sharing and collaboration is the fundamental thing you want to do at work," said CEO Phil Libin at the Evernote Trunk conference in San Francisco. "We want Evernote not only to be your personal brain but your company's brain." In addition, Libin called a "ceasefire" to Evernote's war against paper with the launch of a smart Moleskine notebook at $24.95 and $29.95, shipping in October. An updated iPhone and iPad app, available today, adds a Page Camera feature for digitizing content from the notebooks, whose pages are formatted for Evernote. In beta testing until December, the service will cost $10 per month.
Evernote Business users will be able to separate personal and professional notebooks, with businesses setting up private spaces. The sharing tab will disappear from Evernote, which will display all notebooks in one place. These changes apply to all of the interfaces of Evernote–for the browser, the desktop, and the major mobile OSs.
Evernote promises not to mine users' data, giving companies and individuals full data ownership. "We came up with a kind of playground solution, which is what's mine is mine, what's yours is yours," Libin said, adding that most of Evernote's 38 million users are professionals. Evernote also will introduce phone support.