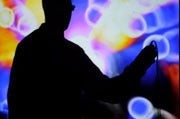 A U.S. District Court judge has upheld a $675,000 fine for Joel Tenenbaum, the former Boston University student who illegally downloaded and shared 31 songs through the long-defunct service Kazaa.
Tenenbaum, who first started fighting the case in 2007, was found guilty two years later, and faced a fine of $22,500 per song. Although U.S. District Court Judge Nancy Gertner found the jury's original verdict to be "unconstitutionally excessive," an appeals court overturned her decision last November.
In May, the U.S. Supreme Court refused to hear Tenenbaum's appeal on constitutional grounds, so the case went back to the U.S. District Court again, with a new judge who was not allowed to rule based on constitutionality.
That brings us to this week's ruling by Judge Rya Zobel. In her decision to uphold the original $675,000 fine, Zobel notes that Tenenbaum "received multiple warnings" about file sharing, and continued to download and share songs even after receiving a cease-and-desist letter from Sony in 2005. She also points out that Tenenbaum had his laptop's operating system reinstalled, and his hard drive wiped, despite being told in 2005 to preserve evidence of his activities.
"In short, there was ample evidence of willfulness and the need for deterrence based on Tenenbaum's blatant contempt of warnings and apparent disregard for the consequences of his actions," Zobel wrote.
Damages of $22,500 per song are well below the maximum fine of $150,000 per willful infringement, Zobel said. They also fall below the maximum $30,000 penalty for non-willful infringement.
Nonetheless, the case is likely to drag on. Tenenbaum's lawyer, Charles Nesson, has indicated that he will appeal Zobel's decision, according to the Boston Globe reports. As CNet noted in May, the case could even end up in front of the Supreme Court again.
At this point, however, the case seems more like a pride fight between the music industry and Tenenbaum than an attempt to set precedent. The Recording Industry Association of America stopped filing new lawsuits against file sharers years ago, and works with Internet service providers to respond to copyright complaints.
Follow Jared on Twitter, Facebook or Google+ for even more tech news and commentary.