Over the years I've remained a mostly steadfast fan of Windows Media Center, the baked-in software that turns your PC into an awesome companion for your TV.
I say "mostly" because of that whole you'll-have-to-pay-extra-for-Media-Center-in-Windows-8 kerfuffle earlier this summer.
Still, my Windows 7-powered HP mini-tower remains connected to my rec-room TV, where it continues to serve beautifully as a DVR. That's because I've paired it with a CableCard tuner. (Not familiar with them? Check out the tuner roundup I wrote last year.)
One area that's always been a mystery, however, is power management. I don't like letting my media center go to sleep because it (or the USB-connected tuner) sometimes fails to wake up properly, meaning my shows don't get recorded. And I don't like leaving it running 24/7 because that wastes a lot of power.
Turns out Windows has a power setting that falls somewhere in between: Away Mode. It works similarly to sleep mode, but keeps some background tasks (like recording and streaming) active so they can continue to run.
I'll admit I'd never heard of this before today. But I'm excited to test it out, as it sounds like the perfect solution. Here's how to set it up, as described in a Facebook post from the Ceton Corporation (makers of the InfiniTV 4 USB tuner):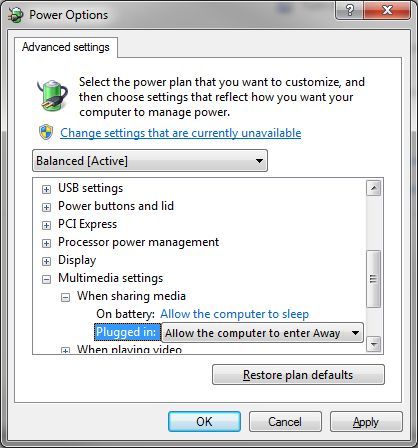 From the Start menu, click Control Panel, System and Maintenance, Power Options.
Select Change Plan Settings for the power plan you use.
Select Change Advanced Power Settings.
Scroll to the Multimedia settings option and expand it.
Expand When Sharing Media.
Select allow the computer to enter Away Mode.
Scroll to the Sleep option and expand it.
Expand Sleep after and set to 0 minutes. Note: you may see "Plugged in" and "On battery" in this section, so choose the former.
Select Allow hybrid sleep and set to Off.
Select Hibernate after and set to 0 minutes. Again, choose only "Plugged in."
Press OK and reboot your PC.
By the way, this is applicable only to systems running Windows 7.
Also, this mode is useful for allowing an otherwise idle PC to share media with remote devices — like, say, an Xbox. Good stuff.
I'll report back if I encounter any issues with this; here's hoping you'll do the same. But if my hassle-free PC senses are correct, this should afford a perfect middle ground between sleep mode and full-steam functionality.
Contributing Editor Rick Broida writes about business and consumer technology. Ask for help with your PC hassles at hasslefree@pcworld.com, or try the treasure trove of helpful folks in the PC World Community Forums. Sign up to have the Hassle-Free PC newsletter e-mailed to you each week.