As hard drives start to get bigger, it becomes more and more convenient to become digital packrats, stuffing files left, right and center into folders and assuming that they will be safe forever. But some of those files may be important, so what if your hard drive suddenly fails and you can't access those important files anymore? It can and will happen. So that's where backup and synchronization techniques come into play and one app that could help you out in this area is FreeFileSync (free).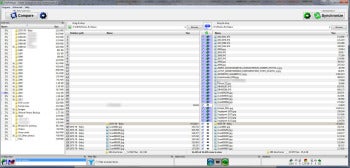 Obviously you need another hard drive or server to back up to. But assuming you've got that side of things worked out, FreeFileSync ensures that your files get synced over from one drive/server to another.
When I installed it, the thing I immediately liked about it was it offered to give me a portable version. Since I am somebody who is reluctant to install too much stuff, this is a nice touch.
There are two big (and only) options in FreeFileSync, "Compare" and "Synchronize." They pretty much speak for themselves. There are two columns in the app. In each column, browse to the desired folder on your PC, hit either the "compare" or the "synchronize" button and then let the app do its work. It goes very fast, so don't go off making coffee, expecting it to take ages. It blitzed through the files I gave it to test. I was impressed.
One of the other features I liked, being an automation fan (and a lazy computer user) was the batch job feature. You are able to set it up so two folders are automatically synchronized with one another at a certain time, based on certain variables. So never again will I have to worry about my collection of David Hasselhoff pictures being accidently wiped. FreeFileSync will automatically sync them for me.
Some other nice features include detecting renamed and moved files and folders, copying locked files, copying Symbolic Links, and support for long file path names of up to 260 characters.
Sometimes you don't need bells and whistles to get the job done. Sometimes basic simple software is enough.
FreeFileSync is basic, it's simple, and it gets the job done.
—Mark O'Neill