At a Glance
Expert's Rating
Pros
Unobtrusive search box on browser bar
Easy way to look up dictionary definitions
Our Verdict
The Dictionary.com Chrome Extension makes going to a dictionary website redundant.
Dictionary.com Extension is for everyone who isn't blessed with a memory like the Oxford English Dictionary. If definitions don't instantly and effortlessly spring to mind and you need an authoritative reference source to look up a word without a lot of extra clicking, check out this free and useful Google Chrome browser extension. It makes the whole word definition search a breeze without having to go to the Dictionary.com site itself.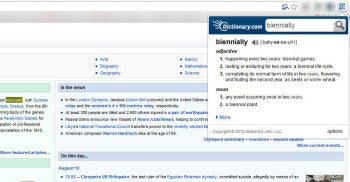 When you install the Dictionary.com extension, a small box will appear in the top bar of your Google Chrome browser. This is your Dictionary.com search box and it is the first way you can use the extension. Simply type the word you don't know into the box and your definition will appear, as if by magic.
The second way you can use this Chrome extension is to highlight a word on any webpage and then click on the small box in the top bar. The highlighted word will already be in the Dictionary.com search bar along with the definition underneath. Impressed?
The third way to use the Dictionary.com Chrome extension is to highlight the word on the webpage and right-click with your mouse. You will see an option in the right-click menu that invites you to view the highlighted word on Dictionary.com, and this is the one time where you are actually taken offsite to Dictionary.com to see the word definition.
Dictionary.com extension for Google Chrome works as advertised. The search button is small and unobtrusive, and the extension is useful to all budding linguists.
If you find yourself looking up dictionary definitions all day, then I highly recommend installing this free extension to save yourself some time and inconvenience. Afterwards, you'll wonder how you survived without it.
Note: The Download button takes you to the Chrome Web store, where you can install the latest version directly into your Chrome browser.
—Mark O'Neill