Samsung Electronics asked a Californian court on Sunday to lift a preliminary ban on sales of its Galaxy Tab 10.1 tablet in the U.S., after a jury found that Samsung does not infringe on an Apple design patent. Samsung also said it wants Apple to pay damages for lost sales.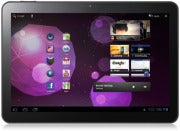 Apple had alleged that the Galaxy Tab 10.1 infringed on its U.S. Design Patent No. D504,889, but in a decision that otherwise went largely in Apple's favor, a California District Court jury decided on Friday that it did not. However, the jury also decided that the South Korean company must pay Apple $1.05 billion in damages because its smartphones and tablets infringed on several of Apple's other patents.
As part of that case, Judge Lucy H. Koh of the U.S. District Court for the Northern District of California, San Jose division, granted a preliminary ban on sales of the Galaxy Tab 10.1 on June 26. Samsung requested Sunday that the ban be dissolved because Apple can no longer win its design patent infringement claim on the merits, Samsung said in a motion filed with the court on Sunday.
Koh had banned Samsung and its U.S. subsidiaries from importing or selling within the U.S. the tablet or any "product that is no more than colorably different from this specified product and embodies any design contained in U.S. Design Patent No. D504,889." The patent, also known as the D'899 patent, refers to the ornamental design of a device.
The court previously found that the Galaxy Tab 10.1 was substantially similar to the D'889 in the eyes of the ordinary observer, Koh said at the time. It also noted that the Tab 10.1 is "virtually indistinguishable" from Apple's iPad and iPad 2, she added.
No Infringement
But since the jury decided last Friday that Samsung did not infringe on Apple's D'889 patent, there "is thus no proper basis for maintaining the injunction," Samsung concluded in its motion.
"Here, the jury found that Samsung's Galaxy Tab 10.1 does not infringe the D'889 patent. Since the purported infringement of the D'889 patent was the only basis for the preliminary injunction, the jury's finding means that Samsung had a right to sell the Galaxy Tab 10.1 during the period in which the injunction has been in effect," Samsung said in the motion, adding that it is therefore entitled to recover damages caused by the "improper injunction."
The court should retain the bond of US$2.6 million Apple posted as a condition of maintaining the preliminary injunction, pending a hearing on damages resulting from the injunction, Samsung said.
Loek covers all things tech for the IDG News Service. Follow him on Twitter at @loekessers or email tips and comments to loek_essers@idg.com.