The IFA trade show kicks off in Berlin Friday, and Samsung on Monday posted its latest tease suggesting the company will unveil a Windows 8 tablet hybrid during the annual tech event.
The Korea-based electronics maker on Monday added a new photo of a Windows 8 tablet to the Samsung Notebook Facebook page with the tag line "Ready to be smart? IFA 2012 Berlin." The image shows a tablet with a Windows 8 Start screen and right underneath the tablet is a laptop keyboard, suggesting this will be a hybrid product.
[RELATED: Eight Windows 8 Tablets to Watch]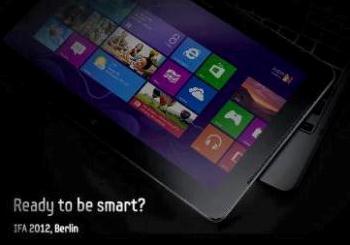 Samsung's latest tease follows a YouTube post from last Tuesday entitled "Something Smart is Coming." In the 37-second video tease, Samsung shows us several glimpses of a silver laptop clamshell, but never lets us see the device's screen. Given that both teases are linked to the Samsung Notebook Facebook page and share the same "smart" promotion, it's a good bet we're looking at the same product.
It's not clear when the device would launch, but the YouTube video's caption suggests it will be available before the launch of Windows 8 on October 26. "Take a look at this video for a glimpse into our newest Windows-8-ready [sic] innovation," the caption reads. The phrase Windows 8-ready suggests the device will ship with Windows 7 and able to upgrade to Windows 8 (most likely with a $15 upgrade fee) in October. Fujitsu recently announced a similar Windows 8-ready product, the Stylistic Q702.
Series 5 Hybrid?
Samsung has yet to say what the new Windows 8-ready device will be called, but chances are these teases are leading up to the official reveal for the Samsung Series 5 Hybrid, announced at Computex 2012 in June. The tablet-laptop hybrid in the Facebook teaser image resembles what Samsung was showing off earlier this summer. During Computex, Samsung offered little in the way of specs for the Series 5 Hybrid, but did say it would feature an 11.6-inch touchscreen, an Intel chip, and front- and rear-facing cameras.
Windows 8 is sure to be a hot topic during IFA 2012 with additional potential Windows 8 tablet and PC reveals possible from Dell and Lenovo.
Connect with Ian Paul (@ianpaul) on Twitter and Google+, and with Today@PCWorld on Twitter for the latest tech news and analysis.