I can't tell you how many small-business owners I know who know nothing about online marketing. And that's to their detriment.
See, even the smallest enterprise can benefit from leveraging blogs, social networks, and other online tools. Too bad there's no instruction manual aimed at teaching owners the basics of online marketing.
Actually, there are plenty of them — and if you own a Kindle, a device that can run a Kindle app, or even just a PC, you can get one for free.
For a limited time, Amazon is offering the Kindle edition of "Get Up to Speed with Online Marketing: How to Use Websites, Blogs, Social Networking and Much More," by Jon Reed, free of charge. The e-book has a list price of $24.99, and its paperback counterpart normally sells for around $16.
True to its name, the tome promises to help you promote your small business online, starting with building a Web site and making that site visible on Google and other search engines.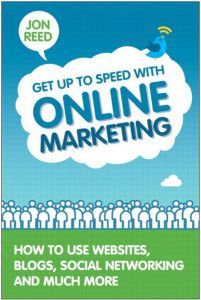 You'll also learn to create worthwhile content (blogs, podcasts, etc.) that you can promote via social networks like, Facebook, Twitter, and LinkedIn.
Author Reed provides additional information on building an online marketing plan and measuring the results of your efforts. Here's an excerpt:
"This book has a focus on the new marketing: the new low-to-no cost online tools like blogs, podcasts, Facebook, YouTube and Twitter. These are not simply the latest online marketing tools, but a fundamentally new approach to marketing. But this is not a trend-chasing manifesto for seeking out the latest shiny new online toy. The focus is firmly on your marketing strategy, rather than on the tools for their own sake."
I'm a fan of that strategy-oriented approach, as anyone can learn to use a tool or two — but if they're not integrated into a larger, more cohesive plan, they won't do you much good. Indeed, having perused the first couple chapters of Reed's book, I can see why it earned five stars nearly across the board from over a dozen readers.
And you can't beat the price. I'm not sure how long Amazon will be giving the book away, so if you have even the slightest interest in building and/or improving your online-marketing efforts, grab it immediately. It could prove an invaluable addition to your e-book library.