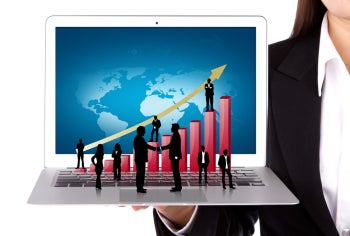 Razor-thin, lightweight Ultrabooks are all the rage in Windows laptops now. Though most Ultrabooks are designed more for the living room than for the boardroom, business customers don't have to feel left out in the cold. We've rounded up five excellent Ultrabooks that combine sleek designs with business-class features and performance. The Ultrabooks discussed here incorporate features that IT departments will appreciate, such as enhanced security and manageability. The laptops will also appeal to mobile professionals, thanks to their slim yet durable frames, long-lasting batteries, and numerous connectivity options.
Travel Friendly: Fujitsu LifeBook U772
Fujitsu's business-oriented Ultrabook is ideal for work on the go. The LifeBook U772 weighs a mere 3 pounds, with a thickness of just 0.67 inch, yet it manages to stuff a 14-inch display into its sturdy 13-inch magnesium chassis. In addition to ultraportability, the LifeBook U772 offers business travelers a long 10-hour battery life rating (one of the longest battery life ratings we've seen in any Ultrabook, and the longest among the Ultrabooks featured here). Advanced security features such as a fingerprint sensor and full disk encryption protect critical data. Prices start at $1149.
Upcoming Enterprise-Ready: HP EliteBook Folio
The HP EliteBook Folio is a step up from the HP Folio 13, the first business Ultrabook ever introduced. Businesses can customize the EliteBook Folio to their exact needs: Intel Core i3, i5, or i7 processors; storage from 320GB or 500GB hard drives up to 256GB solid state drives; and either a four-cell or six-cell battery. A healthy array of ports, including ethernet and VGA, and a full suite of security tools make this 14-inch, 3.6-pound laptop better for business than most competing Ultrabooks. The downside: Though the EliteBook Folio was announced in May, it won't be available until October—and pricing remains to be determined.
Rugged but Classy: Lenovo ThinkPad X1 Carbon
Lenovo's ThinkPad X1 Carbon Ultrabook is the thinnest and lightest ThinkPad laptop yet. In fact, with a weight of just under 3 pounds, the X1 Carbon claims the title of "lightest 14-inch Ultrabook." Thanks to its carbon-fiber construction, this Ultrabook is both light and tough enough to meet military durability standards. The X1 Carbon has a few other things going for it that most other Ultrabooks don't. The 1600-by-900-pixel resolution on the matte display is the highest offered among the business Ultrabooks in this roundup, so text and graphics look sharper and you can see more on the screen without scrolling. Lenovo's RapidCharge technology gets you 5 hours of battery life from a 35-minute charge. And both the backlit keyboard (with iconic red pointing stick) and glass trackpad with integrated buttons are the best in their class. The X1 Carbon is a premium Ultrabook with a premium starting price of $1299.
Graphics Prowess, Budget Price: Lenovo ThinkPad T430u
Professionals who long for a ThinkPad but don't want to shell out for the X1 Carbon will find a worthy alternative in the ThinkPad T430u. The 14-inch T430u stretches the normal definition of an Ultrabook with its 4.1=pound weight and 0.83-inch thickness, but this highly capable machine is one of the most affordable business Ultrabooks around, starting at $779. The T430u comes with a third-generation Intel Core processor, up to 8GB of RAM, storage options that range up to 1 terabyte, and a 7-hour battery life. The optional Nvidia GeForce graphics—a rare feature among Ultrabooks—would be a boon for multimedia mavens. Like other ThinkPads, the T430u includes many security features and diagnostic tools, including a fingerprint reader and a USB blocker. The ThinkPad T430u is slated to launch in September.
Featherweight but Full-Featured: Toshiba Z930
A weight of under 2.5 pounds; 8-hour battery life; fast solid-state drives; enterprise-grade security. The Toshiba Portege Z930 doesn't skimp on the specs of most importance to mobile professionals. The 13-inch Z930 weighs less than the MacBook Air, but it packs features like TPM (Trusted Platform Module) security, built-in VGA and HDMI ports for connecting to projectors, a spill-proof backlit keyboard, and IT management options. The Z930 also supports up to an Intel Core i7 processor with vPro technology (for enhanced security built into the chip), up to 12GB of memory, and up to 512GB of SSD storage. Also impressive: the starting price is just $899.
Thanks to the latest crop of business-friendly Ultrabooks, business users don't have to sacrifice style and portability for security and productivity. Follow Melanie Pinola (@melaniepinola) on Twitter.