Samsung is looking to get a foothold on the Windows 8 desktop market with three all-in-one computers specially designed to run Microsoft's latest operating system. Starting at $749 and set to hit the market Oct. 26, Samsung's Windows 8 PCs feature touchscreens and run on Intel processors.
Samsung's Windows 8 all-in-ones start at $749 for a Series 5 21.5-inch display, up to $1,099 for a 23.6-inch Series 7 desktop, or $1,699 for a 27-inch Series 7 PC. The Series 7 PCs come with a 1TB hard drive and an optical drive.
The 23-inch model runs on an Intel Core i5 processor with 6GB of RAM, while the 27-inch variant has an Intel i7 processor and 8GB of RAM. The Series 5 has an Intel Core i3 processor, 500GB hard drive and 5GB of RAM. You will also find an assorted variety of ports on all the machines, including USB 2.0 and 3.0 ports, HDMI, and media card slots.
Going Touchscreen
All three computers sport 1920-by-1080 pixel capacitive touchscreen displays to work with the new touch interface in Windows 8, so you can swipe the screen to control the tile interface or scroll through pages directly. Samsung also added some hand gesture recognition features that work without touching the display (via the built-in webcam) up to three feet away from the computer. You can adjust audio volume by rotating your hand clockwise, or turn e-book pages by swiping.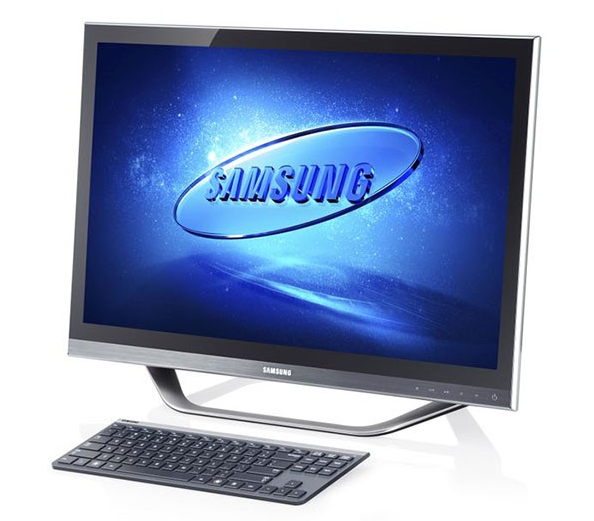 Samsung is pitching the 21-inch Series 5 Windows 8 all-in-one as a kitchen PC because of its open design underneath the display, so you can slide the keyboard and mouse underneath the display.
Since it added touchscreens to its Windows 8 all-in-ones, Samsung did not include a trackpad but only a mouse and wireless keyboard. However, the company is looking to make your transition to Windows 8 smoother by adding a few of its own software touches to its all-in-one computers.
Windows 8 will still feature a traditional desktop interface, but the Start button will be gone. Not on Samsung's Windows 8 PCs though. The company is adding onto the computers what it calls S-Launcher, a small widget app that acts like the start button and gives you quick access to installed apps and commonly used controls.
Samsung is also expected to unveil its Windows 8 laptop lineup next week.
Follow Daniel Ionescu and Today @ PCWorld on Twitter