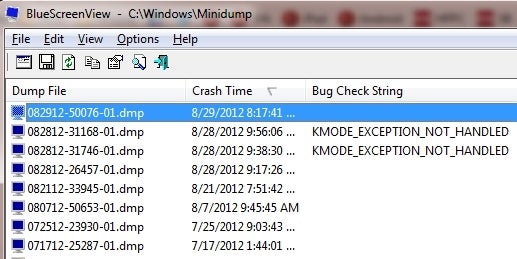 In recent weeks my laptop has developed the dreaded Blue Screen of Death (BSOD). Actually, it's more of a Black Screen of Death: at seemingly random times, the screen will suddenly go black, forcing me to manually power down and reboot.
But make no mistake: this is still a BSOD, just without the blue error screen. Of course, if you've ever encountered one yourself, you know that it often disappears almost instantly. So much for writing down the specific error message, which could help in troubleshooting the problem.
All this brings me to BlueScreenView, a free utility that helps you investigate and diagnose the causes of BSODs.
Notice I didn't say "fix." BlueScreenView is primarily a diagnostic tool, one that shows you the contents of the Windows minidump (.dmp) files generated after a BSOD.
What good is that? Well, if you're trying to get help with your problem in say, an online forum, or from a remote tech, you'll be able to share extensive details about the crash.
And if you're a fairly tech-savvy user, you might be able to use the information to hunt down solutions on your own.
Before you can start using BlueScreenView, you'll need to make sure Windows is generating the aforementioned minidump files. This option should be enabled by default, but you can make sure by following this tutorial: How to configure Windows to create minidump files on BSOD.
Then, after a BSOD, run BlueScreenView. You may see one or more dump files listed in the top pane, but the most recent one should be highlighted.
Scroll to the right until you see the Caused By Driver column. That may be the single most important nugget of information you get, as it points to the driver that caused the BSOD.
You can also right-click the highlighted minidump and choose Google Search – Bug Check+Driver. That'll immediately launch a Web search for the offending driver, which may lead you to some useful troubleshooting sites or forums.
No doubt most of what you see in BlueScreenView will look like Greek. But if nothing else, it's a good first step in pinpointing the cause of your BSOD. And that's literally half the battle.
Contributing Editor Rick Broida writes about business and consumer technology. Ask for help with your PC hassles at hasslefree@pcworld.com, or try the treasure trove of helpful folks in the PC World Community Forums. Sign up to have the Hassle-Free PC newsletter e-mailed to you each week.