T-Mobile may be planning for a 2012 holiday season without Apple's latest iPhone.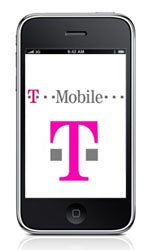 An employee memo, leaked to TmoNews, includes a notice about "Selling Against the iPhone." The notice promises more information for employees on Sept. 21, the same day that Apple's next iPhone is expected to launch.
David Beren of TmoNews sees this as evidence that T-Mobile isn't getting the new iPhone. That seems like a reasonable conclusion, especially considering the lack of rumors stating otherwise. (Last year, when Apple brought the iPhone to Sprint, the news was all but confirmed before the official announcement.)
Still, there is some good news for T-Mobile subscribers who want an iPhone: T-Mobile stores will start selling 4G Micro SIM kits that are compatible with both the iPhone 4 and the iPhone 4S, according to another leaked memo. That means users will now be able to buy an unlocked iPhone and use it on T-Mobile's network at full speeds.
Currently, unlocked iPhones only work on T-Mobile's 2G network, but earlier this year, the carrier promised greater iPhone compatibility as part of a network overhaul. T-Mobile already has around 1 million iPhones on its network at slower speeds.
Although iPhones — and smartphones in general — cost about $450 more when purchased unlocked and without a wireless contract, T-Mobile does provide a discount for off-contract subscribers, and will soon offer unlimited data as well. For individual plans with unlimited talk and text, an unlocked iPhone on T-Mobile is about $270 cheaper over two years than a subsidized iPhone through AT&T.
Follow Jared on Twitter, Facebook or Google+ for even more tech news and commentary.