Adobe Flash is slowly being replaced with HTML5, but many websites still use Flash for videos, banners, and games. Flash videos and animations take up resources, and may even make your browser unresponsive. And of course, they also move and bounce around, sometimes making it difficult to focus on what you're trying to read. FlashControl (free) offers a simple solution, letting you selectively enable Flash in Google Chrome.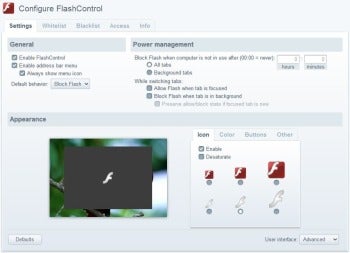 By default, Flash elements show a simple static placeholder. Click the placeholder, and the Flash content loads and starts playing. FlashControl also lets you whitelist websites, so you can enable Flash on Vimeo, YouTube, and other websites on which it is essential.
FlashControl lets you decide how deep you want to dig into its preferences: The default configuration interface is very simple, with only a handful of options. Switch on the Advanced interface, and new tabs and options suddenly appear, letting you deeply customize the extension, right down to changing the placeholder color.
Note: The Download button takes you to the Chrome Web store, where you can install the latest version directly into your Chrome browser.
—Erez Zukerman