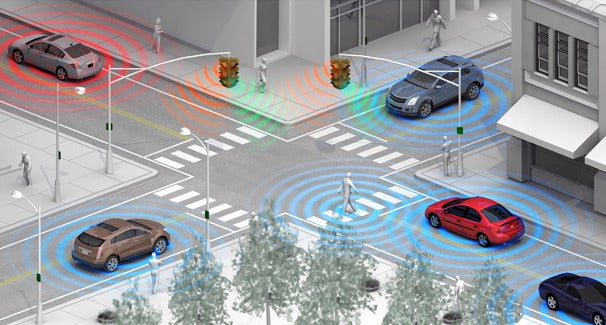 Automotive technology is advancing at a startling rate. Consider game-changing features like in-vehicle LTE, a proliferation of telematics (telecommunications and infotainment), and smartphone apps. While entry-level car buyers are enjoying added-value infotainment systems, high-end manufacturers continue to roll out devices like high-speed in-car Web access and digital rearview mirrors.
Even the U.S. government has gone high-tech. A group of automakers have joined forces with the Department of Transportation in the largest Vehicle-to-Vehicle (V2V) and Vehicle-to-Infrastructure (V2I) test to date. The task force could annouce as early as next year whether it will roll out a large-scale "V2X" (meaning both Vehicle-to-Vehicle and Vehicle-to-Infrastructure) project. The intended benefit would be fewer traffic accidents and fatalities, improved fuel economy, reduced emissions, and shorter commute times.
Vehicles Start Talking to Each Other
Dedicated Short Range Communications (DSRC) is a two-way, short-range wireless communications technology designed for the auto industry. Similar to Wi-Fi, DSRC allows vehicles to wirelessly exchange data with other vehicles and traffic signals at a range of around 900 feet. The DSRC's primary function is to assess the surrounding environment, based on precise data exchanges with other DSRC-equipped vehicles and roadside hotspots.
The more vehicles equipped with DSRC devices, the more effective the technology is. When all cars in an area have V2X, the vehicles have 360-degree situational awareness. The embedded computing device in each car can use information about nearby vehicles to calculate its current and future positions. This can help predict hazardous situations, and then alert drivers of hazards to avoid crashes.
Cars with DSRC can also "talk" with traffic signals to tell you how many seconds you have left at a red or green light. It can also tell you what speed to drive (under the speed limit, of course) to make all the green lights. That could mean an automotive future with better fuel efficiency, fewer emissions, and reduced driving time.
Audi Premieres First Digital Rearview Mirror
Audi's digital rearview mirror technology will soon trickle down from the R18 Le Mans racer into the production R8 e-tron, making it the world's first passenger car with a digital rearview display.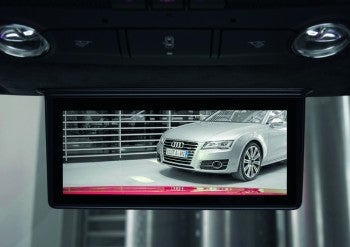 The electric R8 e-tron, like the R18 racer, has no rear window, so it relies on a camera and monitor system for its rear views.
A small, built-in camera covers a much larger field of vision than a conventional rearview mirror.
The color, 7.7-inch display appears where a conventional rearview mirror would be, and features self-illuminating AMOLED (Active Matrix Organic Light Emitting Diode) technology. Audi says that switching times are only a few milliseconds regardless of the ambient temperature.
Audi claims that the display produces a "consistent high-contrast, brilliant image," and prevents headlight glare from other vehicles during nighttime driving. The driver can also dim or deactivate the display at any time.
Small-scale R8 e-tron production starts at the end of this year.
BMW's ConnectedDrive 2012 Features Portable LTE Hotspot
BMW's ConnectedDrive 2012 navigation, infotainment, and Web system sits on the cutting edge of in-vehicle technology, and will be a hard act for other manufacturers to follow.
BMW touts its LTE Car Hotspot as the first production application of in-vehicle, high-speed mobile Internet. Passengers can enjoy LTE speeds on any connected device. While the standard USB power supply unit that allows charging away from the vehicle is great, a built-in battery pack and antenna that provides 30 minutes of use outside of the vehicle is even better.

A small, touch-sensitive pad on the iDrive Controller creates the iDrive Touch system. The big news here is the handwriting recognition function. Passengers can "write" words on the touchpad using their fingers, and the display's "Speller" letters will jump to the right point in the alphabet while an audible verification sounds.
The BMW Navigation system received several notable upgrades, including a 1.3GHz processor and 3D graphics chip that offer animations and real-time calculations. There's also improved route guidance graphics and map views, and a "3D City Models" view option with realistic street and building views. "High Guiding" shows important navigation information in the instrument panel displays.
BMW takes third-party app integration a step further with a Software Development Kit, to aid developers with guidelines and tools to create vehicle-adapted apps. And soon, BMW will integrate Android smartphone apps.
Production has already started for select 3, 5, 7, and M-series models, and the rollout will continue into 2013.
MyFord App Points Out EV Recharging Stations
Ford's iOS app shows charging locations for current Focus Electric and future C-MAX Energi and Fusion Energi plug-in hybrid vehicles.
MyFord Mobile uses MapQuest to power its database, which currently shows over 9,400 locations. It integrates up-to-date charging locations in real time, and features important details like station proximity, address, and hours of operation, as well as ways to increase EV driving range.
The U.S. has gone from around 2,500 public charging stations in 2009 to 9,445 public stations in July 2012, according to numbers from the U.S. Department of Energy.
The MyFord Mobile app is available through the App Store, and works with iOS 4.0 and later.
GM Developing Pedestrian Detection Technology
General Motors is building on its V2V and V2I research by developing a driver assistance feature that could detect pedestrians on busy streets or in poor visibility before the driver can.
This system would also integrate with sensor-based object detection and driver alert systems already in production. Wireless Pedestrian Detection will use Wi-Fi Direct, the peer-to-peer wireless standard that lets some smartphones communicate directly, rather than through a shared access point like a cell phone tower. This allows fast, one-second connections, as opposed to the seven or eight seconds needed for a conventional wireless system.
"Wi-Fi Direct's fast connections offer a distinct advantage in vehicle applications," said GM's Global R&D Senior Researcher Donald Grimm. "The quicker a vehicle can detect other Wi-Fi Direct users, the greater the potential for collision avoidance."
GM also wants to develop a complementary app for frequent road users, like bicyclists or construction workers, who own Wi-Fi Direct-capable smartphones. Once downloaded, the app would allow Wi-Fi Direct-equipped vehicles to identify them.
Wireless pedestrian detection is part of GM's ongoing development of V2X communication systems, which could soon provide advance warning about stalled vehicles or slippery roads.
HondaLink and Harman Create Personal Infotainment
HondaLink, Honda's new connectivity system, looks to connect drivers to thousands of cloud-based news, information, media, and social media feeds from around the world.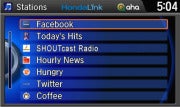 It features the first automotive application of Aha by Harman, an infotainment platform that organizes Web content into personalized, live, and on-demand radio stations on the audio system interface.
With the HondaLink smartphone app, owners add preset content to their phones. Once the user and the tethered phone are inside the vehicle, the content is accessible via voice recognition, steering-wheel-mounted controls, and in-dash audio system controls.
Future content additions will include Pandora radio and voice-to-text SMS text services with pre-programmed responses. HondaLink debuts this fall on the 2013 Honda Accord.