At a Glance
Expert's Rating
Cons
Doesn't let you choose what to clean
Our Verdict
Remove all traces of your activities from your PC with PrivaZer.
There are many files on your computer that contain hints as to where you've been surfing, what you've been writing, viewing, etc. It's a staggering job to get rid of all of it by hand. Indeed, even experienced users usually opt to erase the hard drive and reinstall their operating system; it's faster than doing it manually.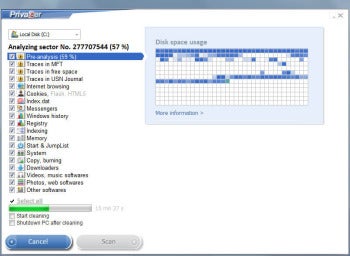 Privazer is another, and far handier, option. From what I saw in my hands-on, it removes every trace of your activities. Aside from the usual stuff such as browser histories and cookies, the Windows registry and MRUs (Most Recently Used lists), Privazer scours your hard drive's free space and MFT or FAT file system, Index.dat files, messaging data, Windows and USB histories, file indexing, memory, Hiberfil.sys and Pagefile.sys, jumplists, prefetch data, the USN Journal (a history of Windows changes), and the histories of a lot of popular software. There may be something that PrivaZer doesn't sanitize, but if so, I didn't find it.
My only extremely minor wish for PrivaZer is the ability to pick and choose what to scrub. As of now, you either scrub your computer or you don't. Seeing as the basic idea is to remove all traces of your usage, that's probably unfair, but it does limit the program's use for selective cleaning.
PrivaZer is a very handy utility and can also be run as a portable application without installation. Just be sure you really want to ditch all that stuff—it's very thorough. For more selective cleaning, try Piriform's CCleaner.
—Jon L. Jacobi