A Tokyo court ruled Friday that Samsung did not infringe an Apple patent in a locally filed lawsuit, a minor victory for Samsung in the ongoing legal battles between the two companies.
The ruling by Tokyo District Judge Tamotsu Shoji concerned a single patent related to synching smartphones and tablets with media devices. Apple is still pursuing other lawsuits in the country, where legal monetary awards are typically much lower than in the U.S.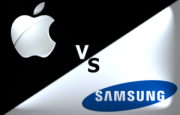 Judge Shoji dismissed the lawsuit in a brief statement to the court, saying Samsung's products do not fall under Apple's technology patents. The suit was originally filed by Apple in August last year.
"We welcome the court's decision, which confirmed our long-held position that our products do not infringe Apple's intellectual property. We will continue to offer highly innovative products to consumers, and continue our contributions towards the mobile industry's development," Samsung said in a statement.
A spokesman for Apple Japan said the company had no comment.
In a separate case in the U.S., a federal jury last week ruled heavily in Apple's favor on a number of patents, saying the South Korean electronics giant must pay Apple $1.05 billion for various patent infringements relating to the look and software of Apple's devices. The amount could still grow for deliberate infringement.
Following the verdict, Apple asked the U.S. District Court for the Northern District of California, San Jose division on Monday to block sales of eight Samsung products, including seven smartphones from its main Galaxy brand.
A similar lawsuit in Korea ended in a draw, when a Seoul Central District Court said both companies have infringed each other's patents, imposing small financial damages and a halt in sales of older products from both companies.
Apple's smartphones and tablets are dominant in the Japanese market, far outselling rival devices from Samsung.