In the ongoing race to build ever better flat-screen displays, a potentially disruptive technology has made a small debut at IFA, the consumer electronics show currently taking place in Berlin.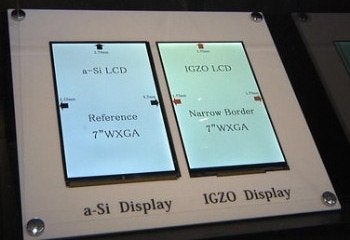 In a corner of the booth of Japan's Sharp are several prototype displays based on a new type of LCD (liquid crystal display) called IGZO.
The clunky IGZO name is derived from indium gallium zinc oxide, the semiconductor material on which the screen is based. Each pixel in an LCD screen is controlled by its own transistor and making those transistors on IGZO brings several favorable characteristics over the amorphous silicon that is used in today's LCD panels.
Electrons move faster in IGZO and that brings benefits in current flow that mean the transistors can be made much smaller. Because the size of the transistor directly affects the size of the pixel, a smaller transistor allows for smaller pixels and so more can be crammed in per inch than today.
One prototype 6.1-inch screen on show at IFA crammed in 2560 pixels by 1600 pixels, or 498 pixels per inch. That's a 50 percent increase on the 326ppi screen used in Apple's iPhone 4S and roughly double that of the new iPad. The difference is easily apparent: the Sharp screen displayed a stunningly detailed image. (See video of the IGZO prototypes at IFA on YouTube.)
This difference in current flow inside the screen also means that transistors don't have to be continually refreshed when a still image is on the screen. That leads to lower power consumption and, for touch panels, much less interference from the screen's electronics so the touch panel becomes more accurate and sensitive, said Nobuhiro Okan, a manager with Sharp's display device group.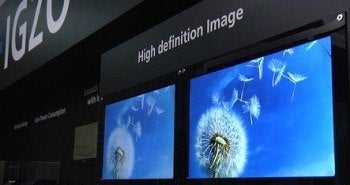 Okano pointed to a comparison the company was showing between twin 10.8-inch panels that were cycling through a series of still images. A prototype IGZO panel consistently drew two third less power than an amorphous silicon panel and the amount of energy used by the backlights on each panel was always lower on the IGZO screen, sometimes by more than half.
Another advantage of the smaller electronics is that the glass edge of each display can be made slimmer, so portable gadgets could be made a little smaller.
Higher resolution in a small screen, lower power consumption, more accurate touch panels — these are all things in high-demand by the portable gadget industry so it should come as no surprise there's been a string of speculation about when IGZO will make it into products, particularly those from Apple.
For now, that remains just speculation. Sharp hasn't announced any customers and no companies have said they're using the technology, but if Sharp can deliver on all the promises at an affordable price, it could be making its way into gadgets soon.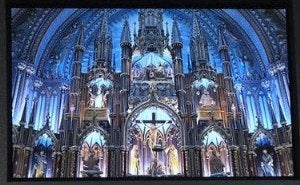 IGZO technology has its roots with Tokyo Institute of Technology professor Hideo Hosono, who first synthesized transistors using the semiconductor in the mid-'90s. Since then it's been the subject of research and development at scores of companies in Japan, South Korea and Taiwan.
Prototype LCD and OLED screens based around the technology have been shown, but it's not until now that a company has seriously talked about commercialization of the technology.
Sharp began sample production of three IGZO panels at its Kameyama plant in central Japan earlier this year: a 7-inch panel for tablets and e-book readers, a 10-inch panel for laptop computers, and a 32-inch panel for professional monitors.
Sharp said it will be ready to begin full production in the fourth quarter of this year and will initially target the professional market. At IFA the company was showing for the first time a prototype monitor with a 31.5-inch IGZO screen with 4K resolution (3,840 pixels by 2,160 pixels) that will be targeted at the CAD/CAM, broadcast and medical imaging markets.
Pricing of the screens hasn't been announced, although Sharp's Okano said it wouldn't be substantially more than current LCD panels because the basic manufacturing cost is similar.
Martyn Williams covers mobile telecoms, Silicon Valley and general technology breaking news for The IDG News Service. Follow Martyn on Twitter at @martyn_williams. Martyn's e-mail address is martyn_williams@idg.com