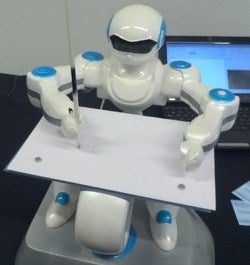 Vietnamese toy maker Tosy Robotics showed two robots at the IFA electronics show in Berlin.
To see the two robots in action, watch a video on YouTube.
SketRobo is a small robot that can draw pictures ranging from pre-programmed ones to custom portraits. The robot at IFA held an ink pen and quickly drew one of 200 pre-loaded pictures on a regular-sized sheet of paper. It signed "Tosy" on each one in script. Another version of the robot will have a camera in its eyes that can snap a picture and then draw the user's portrait. It will cost around US$100.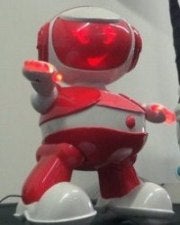 The other robot, DiscoRobo, danced to the beat of whatever music played. It also has coordinated facial expressions.
Tosy Robotics scaled its presentation at IFA back from its star-studded event at CES with Justin Bieber.
SketRobo and DiscoRobo will go on sale in 2013.
Nick Barber covers general technology news in both text and video for IDG News Service. E-mail him at Nick_Barber@idg.com and follow him on Twitter at @nickjb.