Lenovo on Friday introduced a new range of all-in-one PCs that have touchscreens and are designed to run Microsoft's upcoming Windows 8 OS, with prices for the desktops starting at US$599.
The IdeaCentre B340 and B345 will come with 21.5-inch, high-definition touch displays. The systems should take full advantage of Windows 8, the first PC OS from Microsoft that makes touch a first-class citizen.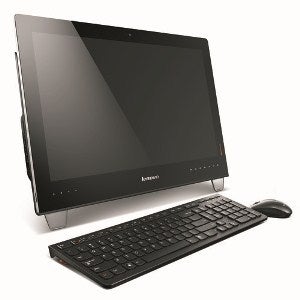 The B340 and B345 will both be priced at US$599 and be available in October, with the release of the new OS. Lenovo is also adding Windows 8 to the IdeaCentre B545, which has a 23-inch touchscreen and has been available since April starting at $699.
With the arrival of Windows 8, Lenovo is now adding touch capabilities to a wider range of all-in-ones. Users will be able to use touch gestures to scroll documents, play games, browse the Web or flip between pictures and movies. Several vendors have announced touchscreen laptops with Windows 8, but the larger screens on the all-in-ones should make them more convenient for touch use.
The new systems have 10-point touch capabilities, meaning up to ten fingers can be used at the same time on the screen. Chip options include third-generation Intel Core i7 processors code-named Ivy Bridge or Advanced Micro Devices quad-core processors code-named Trinity. Graphics cards are optional; users can select Nvidia GeForce 615 with the B340, or AMD's Radeon HD7470A with the B345 and B545 all-in-ones.

An optional TV tuner card is also available for watching TV.
Lenovo also announced the IdeaCentre A520, which has a 23-inch touchscreen that can display images at full high-definition resolution of 1920 by 1080 pixels. The screen has a wide viewing angle and can be tilted between 90 and -5 degrees to make touch use more convenient. The A520 will be available with Intel's Core i7 processor, 8GB of memory, and up to 1TB of storage. The IdeaCentre A520 will be available in October starting at US$999.
Agam Shah covers PCs, tablets, servers, chips and semiconductors for IDG News Service. Follow Agam on Twitter at @agamsh. Agam's e-mail address is agam_shah@idg.com