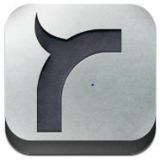 A startup that pledges to do Twitter right expanded its reach Saturday when its first app built from scratch for users of the iPhone, iPod Touch, and iPhone arrived at Apple's App Store.
The free iOS app, AppNet Rhino, comes on the heels of the release a week ago of Hooha, a free Android program built for the new microblogging network, App.net.
While Rhino isn't the first iOS app to support App.com—Tweet manager Buffer has added such support to it repertoire—it was built from the byte up to do so.
Two Croation companies produced Rhino. Planet 1107 coded the app, and Marko Prljic designed it. Features in the offering include:
View of personal or global streams, as well as mentions and profiles;
Follow or unfollow other users, as well as view their profiles by tapping their avatar or their name in a post;
Display reply options by swiping a post;
View full conversations by tapping a post marked as reply; and
View thumbnails of YouTube videos that can be tapped for full display in a browser built into the app.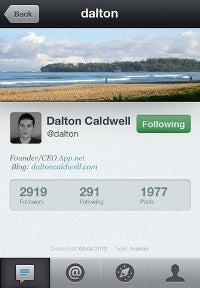 App.net was founded by Dalton Caldwell, who has a couple of previous startups under his belt—iMeem, an online music app that MySpace bought and subsequently buried and Picplz, a photo app that made the mistake of competing head-to-head with Instagram.
In July, Caldwell launched an ambitious program to fund App.net, which he had been working on for about a year. In Kickstarter fashion, he set out to raise $500,000 in 30 days from investors on the Net. He hit his goal with 38 hours left on the clock.
Not surprisingly, Caldwell has been a critic of Twitter in the past. The Internet's largest vehicle for microblogging would have been better off as an API-centric service instead of one centered on advertising, he says.
"We believe that advertising-supported social services are so consistently and inextricably at odds with the interests of users and developers that something must be done," Caldwell argues.
That point became painfully obvious to Twitter developers, who have seen the service pull in the reins on their use of its API.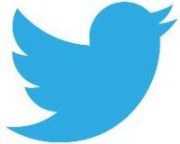 According to Instapaper developer Marco Arment, Twitter's new rules for developers are designed to punish success. He said Twitter is telling developers,"Once you get big enough for us to notice, we're going to require you to adhere to more strict, unpublished rules to make sure you don't compete with us or take too much value from our network."
Caldwell says his entry offers the opposite: "We're building a real-time social service where users and developers come first, not advertisers."
Maybe so. But when you don't have advertisers to pay the bills, then users have to pick up the tab. It remains to be seen if that model can be viable.
Follow freelance technology writer John P. Mello Jr. and Today@PCWorld on Twitter.