This year at the IFA consumer electronics show in Berlin vendors introduced and demonstrated a plethora of ultra-high resolution TVs, hybrid tablets based on Microsoft's upcoming operating systems, as well as the first device based on Windows Phone 8.
Here are some of most interesting trends at IFA 2012 and the products they have spawned:
4K TV
LG Electronics, Sony and a number of other vendors all showed so-called 4K TVs, which increase the resolution from the current 1920 by 1080 pixels to 3840 by 2160 pixels.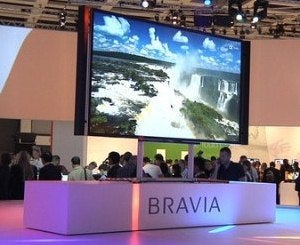 The term 4K comes from the horizontal resolution. (See also "TechHive: Three-Minute Tech–4K Resolution").
To take full advantage of the format a big TV is needed, which the TV manufacturers have realized. The screen on Sony's XBR-84X900 measures 84 inches, as does LG's UD (Ultra Definition) 3D TV.
But despite how beautiful the carefully-selected video clips looked on the show floor, there are a few obstacles, including price. LG's TV will cost about US$22,000 when it starts to roll out in North America, Europe, Asia, and Latin America starting in September. There's also a lack of native 4K content to watch, which will make it even harder for the technology to take off in the near future.
Hybrid Tablets
IFA 2012 was definitely the coming out party for tablets based on Microsoft's upcoming Windows 8 and Windows RT operating systems, which have been developed with tablets in mind. The Windows 8 tablets use Intel processors and the Windows RT devices use processors from ARM.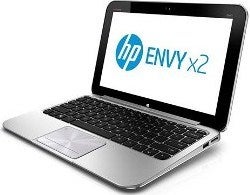 The PC vendors seem to believe that tablets need a keyboard that can be folded away when not in use or detached when not needed. An example of the latter premiered with Microsoft's Surface tablets, and is also used by Samsung Electronics' ATIV Smart PC, Asus Vivo Tab and Hewlett-Packard's Envy X2. Besides the form factor, the products also have the same screen size, 11.6 inches.
What they will cost when they ship later this year is still a mystery, although Samsung said that in Sweden its ATIV Smart PC will list at 6400 kronor ($950) excluding tax.
All-in-One PCs
While there were many tablets based on Windows 8 there were also a lot of all-in-one PCs, including new families from Lenovo and Samsung, and products from Toshiba and Acer.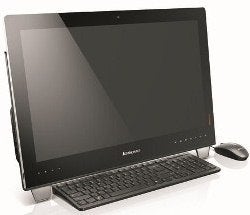 For example, Lenovo's IdeaCentre B340 and B345 will come with 21.5-inch, high-definition touch displays. Users will be able to scroll documents, browse the Web or flip between pictures and movies using various touch gestures.
Users of Samsung's Series 7 and Series 5 All-In-One PCs will also have the option of controlling the computers using hand gestures. They can swipe right or left without touching the screen to turn the pages of an e-book.
Users can also rotate their palm clockwise or counter-clockwise to change the volume while watching a movie, or wave their hands to stop it playing.
Windows 8 is due to start shipping on October 26.
OLED
OLED (Organic Light-emitting Diode) technology holds the promise of exceptionally thin TVs and images that have better contrast ratio and less motion blur.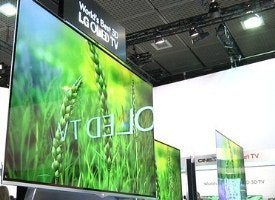 At IFA, LG and Samsung showed based on the technology. Both are capable of reproducing 3D content. Using a feature called Multi View, as well as glasses with integrated earphones, two people can watch two different shows at the same time on Samsung's ES9500.
On the show floor both sets produced great images, but as has been the case since OLED TVs first arrived the improvements come at a steep cost. LG's new OLED model costs around 9000 euros (US$11,290) in Europe.
NFC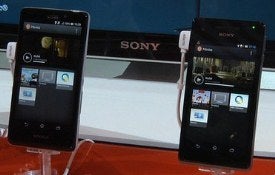 Integrated NFC (Near-Field Communications) is showing up in an increasing number of products including, at IFA, Samsung's ATIV Tablet, Sony's Xperia T smartphone and the Vaio Duo 11 hybrid tablet and Asus' Vivo Tab.
But the technology hasn't necessarily been included for making payments, which is the area that has received the most attention. Sony users will be able to touch their phone to new NFC-equipped speakers and headphones so that music jumps from playing on the device to the speakers or headphones.
Smartphones
IFA has never been a launch pad for the hottest smartphones, but there were still some interesting products at this year's show. Samsung announced the first smartphone that will run Windows Phone 8, the ATIV S which has a dual-core processor and a 4.8-inch HD screen.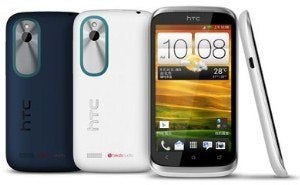 Screen sizes above 4.5 inches is becoming standard on high-end smartphones, with the notable exception of the iPhone. At IFA, Sony announced its new flagship model, the Xperia T, has a 4.6-inch display and 13-megapixel camera.
On the lower end, HTC introduced the Desire X, which has a 1GHz dual-core processor and a 4-inch super-LCD screen with 800-by-480 pixel resolution. HTC hopes it can attract cost-conscious buyers with a camera that can shoot video and take still pictures at the same time.
Intel had a good show thanks to the launch of new hybrid tablets, but the company's smartphone push also took a small step forward with the introduction of the ZTE Grand X IN, which is powered by the Intel Atom Z2460. The smartphone has a 4.3-inch screen with 960-by-540 pixel resolution, as well as an 8-megapixel camera, support for HD Voice and an FM radio.
Send news tips and comments to mikael_ricknas@idg.com