Facebook claims it's cleaning up the proliferation of false "likes" on its system, but its methods for doing it are opaque.
"[W]e have recently increased our automated efforts to remove Likes on Pages that may have been gained by means that violate our Facebook Terms," the social network reports in a company blog Friday.
Details about how Facebook has altered its automated efforts to purge the system of likes generated from botnets and malware were left out of the posting. No doubt, too much detail could enable miscreants to take measures to counter Facebook's efforts.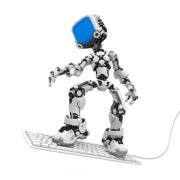 However, the social network did little—other than estimate the new system would, on average, eliminate less than 1 percent of the likes on any given page—to assure legitimate users of the system that the new automated broom used to sweep bogus likes from its pages won't create bigger problems with false positives than already exist.
"Is it because of this, that you blocked me, an honest entrepreneur 3 times (the last one for 30 days) because I was making friends?" Clanimal, a pet services provider in Montreal, complains in a comment about Facebook's cleansing efforts.
"Couldn't you make the difference between me and a robot!" he adds. "Finally, when its time to talk to someone at Facebook to show that I am not a 'menace,' it was more possible to have a date with Lady Gaga than talking to a human at Facebook."
Facebook's Advice
To avoid being targeted by its beefed-up automated efforts to purge false likes from its system, Facebook recommended that page owners vet any business that offers marketing services to build their Facebook presence, to make sure that these companies are using practices that don't violate Facebook's rules for using the system.
Some members, though, weren't sold on Facebook's efforts to clean up its likes act. "Facebook knows about this issue for some time but still dismiss [sic] it as a minor issue, while still taking money from campaigns," writes Noam Katowicz.
Money spent on such campaigns is often squandered, a BBC investigation revealed in July. The British broadcaster concluded that companies are wasting large sums of money on advertising to gain "likes" from Facebook members who have no real interest in their products.
At that time, Facebook said that it did not see any evidence of a "wave of likes" coming from fake users or "obsessive clickers."
That's not to say there aren't lots of dubious accounts to be exploited on Facebook. It reported in August that 8.7 percent, or 83 million, of its 955 million accounts are either duplicates or fakes.
Many of those accounts are located in the developing world and were created to feed bots and boost like counts. Businesses that resort to such practices, though, are playing with fire, as Dan Tynan writes in ITworld.
"Eventually," he notes, "even Facebook is likely to figure out what's happening, at which point you could find yourself and/or your business booted off the network."
Follow freelance technology writer John P. Mello Jr. and Today@PCWorld on Twitter.