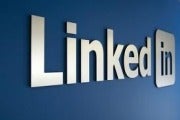 LinkedIn will now notify its members whenever their contacts interact with them in a variety of ways, such as liking something they posted.
These alerts will be added in real time to a new section of the user's account home page, called Notifications. Whenever there is a new item, a red circle will appear on the Notifications section label.
"This new feature is all part of our ongoing effort to make it easier to keep engaging discussions going with your network," wrote LinkedIn official Angela Yang in a blog post on Wednesday.
LinkedIn started rolling out this feature Wednesday, but it may take "a few weeks" to be activated for all users.
This notifications feature will also "soon" be added to LinkedIn's mobile applications for iOS and Android devices.
LinkedIn has about 175 million members worldwide who use the site to engage in professional networking.
With a LinkedIn account, users can create profiles detailing their professional experience, build a list of contacts, post comments and links, join groups, check out job postings and view news relevant to them.
In addition to basic free accounts, LinkedIn also has paid accounts that give subscribers more features and capabilities, primarily in the area of job hunting. LinkedIn also offers paid accounts tailored for professional recruiters and for sales executives.
In the second quarter ended June 30, 2012, LinkedIn increased its revenue year over year by almost 90 percent to US$228.2 million, while net income fell 38 percent to $2.8 million. LinkedIn's stock closed at $113.28 on Wednesday on the New York Stock Exchange, up 5.5 percent. In the past 52 weeks, it has ranged from $55.98 to $120.63.
Juan Carlos Perez covers enterprise communication/collaboration suites, operating systems, browsers and general technology breaking news for The IDG News Service. Follow Juan on Twitter at @JuanCPerezIDG.