The early returns/opinions are in on the Nokia Lumia 920—expected to reach retailers in November—and they declare the new flagship smartphone for Microsoft's Windows Phone 8 operating system a winner.
From its high-quality construction to its dazzling display, the Nokia 920, introduced Wednesday, garners kudos across the Net.
"It's incredibly handsome," gushed David Pierce at The Verge.
"The new Nokia Lumia 920 mobile phone is the best the company has ever made," added Matt Warman, consumer technology editor at The Telegraph, based in the United Kingdom.
The 920's construction earned some praise from Andrew Wooden at T3. "Nokia's R&D department apparently put it through rigorous tests, including dropping it, splashing it, and even putting suntan lotion on it to see if the colors would be affected," Wooden wrote. "The overall result is a solid feeling build that feels like it could take a knock or two."
Chris Burns, writing for SlashGear, added, "The displeasing ridge around the display of the Lumia 900 has gone, with a smooth blend into the plastic body."
Specs
Nokia used a unibody design for the 920's scratch-resistant polycarbonate to enhance antenna performance. The bright colors offered for the phone—a Lumia trademark—are inject molded into the plastic to prevent them from fading over time.
The 920's display resolution of 1280 pixels by 768 pixels also captured claps from pundits. "It's gorgeous," said Kyle Wagner at Gizmodo. "It's bright and defined, and photos look incredible on it."
Photos looked "amazing" on the screen, Wagner wrote, and were "tack sharp."
"The phone's PPI is dead even with the iPhone's 326 PPI retina screen, and in the real world, it looks just as good," he opined.
SlashGear's Burns added that the 920's 4.5-inch screen was "vivid in its colors" and "inky in its blacks."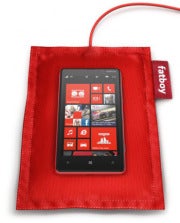 The Verge's Pierce was also impressed with the performance of the 920's Snapdragon S4 dual-core processor and Microsoft's yet-to-be released mobile operating system. "It's snappy and responsive, with no crashes or problems in the few minutes we got to use it," Pierce wrote.
Chris Velazco found the 920's specs underwhelming—"not exactly the sort of spec sheet that will set your world on fire"—but acknowledged "there's plenty to like about the Nokia's refined take on Windows Phone 8 hardware."
A sore point of any Windows Phone handset is how few apps there are for it. While there's nothing much the 920 can do about that, Nokia and Microsoft have better app integration than their rivals, maintained The Telegraph's Warman. "The package comes together to make sure consumers feel that they're always using one coherent device rather than a phone that is constantly having new apps bolted uncomfortably onto it," he wrote.
As much as many commentators liked the 920, even its fans admitted that even with outstanding hardware, Windows Phone 8 will still be a tough sell to consumers. Gizmodo's Wagner asked: Can the Nokia 920 lure Android and Apple users away from the fold? "After a few minutes with it, it's a resounding…maybe," he concluded.
Follow freelance technology writer John P. Mello Jr. and Today@PCWorld on Twitter.