Getting through the work day is often a matter of tuning out distractions — which, ironically, often works best when you tune in some music.
Ah, but what kind of music? And does the corporate firewall keep you away from music-streaming sites like Pandora and Spotify?
Enter Get Work Done Music, a free browser-based music service that streams work-friendly tunes.
And by "work-friendly" I mean mostly electronic, mostly lyric-free stuff designed to keep your brain engaged and energized.
GWDM offers two play modes: Fast and Faster. Just click the one you want and presto, instant streaming of custom playlists courtesy of SoundCloud.
If you like the song you just heard, you can click That last one was sweet to hear it again. Not a fan of what's playing? Click Gimme the next one cap'n to skip to another track.
And that's really the whole site in a nutshell. It doesn't try to sell you tracks on iTunes, nor does it bother you with ads. It just keeps a background soundtrack playing for as long as you keep the tab open.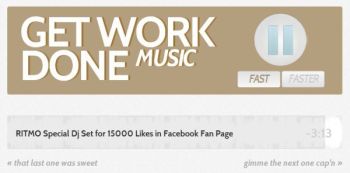 As a writer, I find this kind of thing invaluable. While there are times when I prefer silence, there are other times when beats like these really help me get in the zone and power through my workload.
Your mileage may vary, of course, but if you're feeling the need for a little mental stimulation (and you've got some earbuds so as not to disturb your cubicle-mates), Get Work Done Music can really live up to its name.
Alternately, if you're looking to squeeze in a little exercise at your desk, the service might just as easily be called Get Workout Done Music.