At a Glance
Expert's Rating
Our Verdict
Easily follow-up emails or schedule them for later sending with RightInbox, an add-on that blends into Gmail.
Send an email sometime on the weekend, and by the time Monday rolls around, it will be buried under a pile of other emails crowding your recipient's inbox. But what if you don't have time to send the email at just the right moment for it to be seen? If you're using Gmail, Right Inbox can do that for you. This service ($5/month or $39/year, free feature-limited demo) can also track sent emails and report when the recipient opened them, and remind you about emails that haven't received a reply so you can follow up.

No aspect of Right Inbox is really unique: ActiveInbox has been offering a browser add-on for managing Gmail more efficiently; Boomerang is another add-on that offers remarkably similar functionality. And then there are Followup.cc and FollowupThen, two services that provide follow-up reminders without any add-ons–you simply CC the service when sending the email. Finally, Google published its own way to create your own reminders using Google Docs and some scripting. But Right Inbox is more focused than ActiveInbox, better-priced than Boomerang (which costs $15 per month for Google Apps users), can do things the two follow-up services simply can't, and doesn't require any coding skills to set up.
Right Inbox comes as a browser add-on for Firefox, Google Chrome, and Safari. It blends into Gmail so seamlessly you may have trouble finding it at first. There is no control panel, and nothing to configure. Unlike ActiveInbox, it doesn't create lots of new labels within Gmail. It simply shows up as a few new buttons in the email composition screen, and one new button in the message reading screen.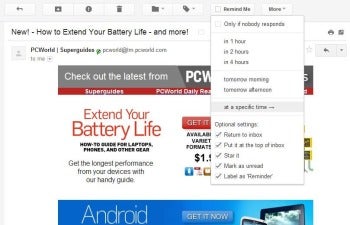 When composing a new email, you can now click the Send Later button and specify when you want that email sent. While waiting to be sent, the email is stored in your Drafts folder, so you can still edit it. You can also tick the Track checkbox, which will embed a tiny invisible image into the email, and will let you know when your recipient opened the message (assuming he opted to display images you send). Finally, the Remind Me button lets you push the email into your own Inbox after some time, star it, label it as a Reminder, and even mark it as unread. You can have Right Inbox do all of this only if the recipient doesn't reply to the message, so you're not flooded with unneeded follow-up reminders.
The Remind Me button is the one that also shows up in the message reading screen: You can use it to snooze threads that don't require immediate action or are awaiting other information, and have them come back to your inbox when the time is right. This is also the only part of Right Inbox that gave me any trouble: The button wouldn't always show up, and I had to refresh Chrome every now and then to get it to display.
Right Inbox gets a lot right: The interface is simple and well-integrated, and the price is reasonable. If you're a Gmail or Google Apps user looking for an email scheduling and tracking solution, you should try it out.
Note: The Download button takes you to the vendor's site, where you can download use latest version of the software on your Gmail or Google Apps account running in a supported browser.
—Erez Zukerman