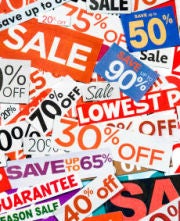 While electronics bargains associated with Back To School sales disappear after Labor Day, that doesn't mean deal-seekers should write off the rest of the month.
Bargains will abound in September for gizmos like Ivy Bridge laptops, last generation iPhones, 55-inch HDTVs, and solid state memory drives, according to smart shopper site DealNews.com.
Laptop prices slide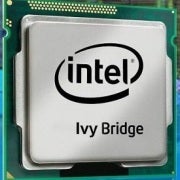 In the current notebook market, all PC makers—with the exception of Apple—have been unable to sustain premium prices for their products, and that appears to be the case with laptops based on Intel's Ivy Bridge processor.
When introduced in April, laptops based on the chips were priced in the $800 to $1000 range, but as more models began to flood the market, prices began to plummet.
According to DealNews, 15-inch Ivy Bridge laptops selling for a grand in April were peddled at around $480 at the end of August—a drop of more than 50 percent. "We expect to see even more aggressive deals as Microsoft preps systems for its Windows 8 launch in late October; shoppers would be wise to wait a few more weeks to see the best laptop deals," the shopping site advises.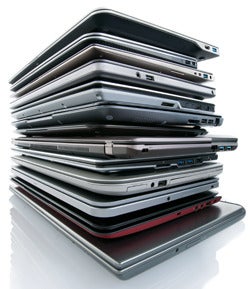 That doesn't mean, however, that Ivory Bridge laptop deals aren't available. Notebooks with 15-inch screens selling between $480 to $550 are bargains, DealNews noted. Anything priced below $480 indicates that the market has hit new lows and deserves to be pounced on.
Worried about buying a computer before Windows 8 is officially released? Microsoft has you covered. Any Windows-based computer purchased after June 2 is eligible for a $15 updrade to Windows 8 Pro when it's released.
New lows are good news for consumers, but not such good news for computer makers. There are even signs that PC price slippage may be piercing Apple's premium invulnerability. For example, regional retailer Fry's Electronics is selling 13-inch MacBook Airs, which have Ivory Bridge processors, at $999.
Old iPhones, new prices
Prices for older models of Apple's iPhone, as well as their accessories, should be declining, too. A new iPhone model is expected to reach retailers on September 21.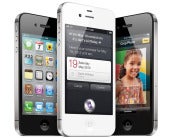 "If the newest iPhone pricing mimics that of its siblings-made-obsolete, then the iPhone 4S could drop to $99," DealNews reasons. "And the iPhone 4 will possibly stick around as an even more affordable model."
Of course, once the new iPhone starts selling, a new wave of accessories will start to enter the market. To make room for them, retailers will offer aggressive deals on legacy accessories. That scenario may take a few months to develop, however, so patience will be needed by shoppers who want the best deals on old accessories.
HDTV: Watch for it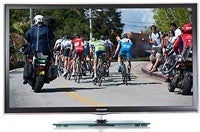 The autumn months leading up to Black Friday and Cyber Monday are to HDTV shoppers what the Horse Latitudes are to sailors. Nevertheless, there appears to be a bargain window cracked in the 55-inch HDTV category, according to DealNews.
Over the summer, it observes, prices for the mammoth TVs dipped below $1000 and at in August they hit an all-time low under $950. "While we still recommend waiting for the holidays, shoppers who can't wait until Black Friday should look at 55-inch 3D LCD HDTVs under $1000," it counsels.
Also watch: Storage, tablets
Since their introduction, debate has raged over whether the performance of solid state drives justifies their cost compared to other storage options, especially in consumer products. That debate may simmer down as the prices for SSDs decline, which is another trend spotted by DealNews.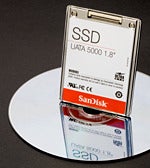 It has observed SSD prices sliding during the summer months until they've reached all-time lows in both specific models and capacities. Best deals on SSDs can be found at Newegg, it notes.
What about the hottest high tech product category: tablets? Wait-and-see is the best course of action for September, as tablet makers refresh their lines.
"It would benefit the consumer to hold off on purchases at the moment," DealNews recommends. "[I]ncreased competition could likely yield deals that either cut prices or bundle devices with useful media credits or gift cards."
Follow freelance technology writer John P. Mello Jr. and Today@PCWorld on Twitter.