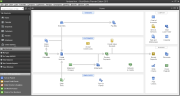 Intuit's annual refresh of QuickBooks this time around is less about steak than sizzle. The QuickBooks 2013 family doesn't offer much in the way of new functionality, but it definitely looks a lot different than its predecessors.
The new look, which takes design cues from the web and from the ribbon that's become ubiquitous in Microsoft apps, is attractive, contemporary, and, in some ways, more efficient. But it may be a tough sell to existing users who aren't interesting in learning a new user interface, no matter how streamlined it may be.
I checked out QuickBooks Premier 2013, which at $400 for a single-user license is the higher-end of the two retail versions, with industry specific editions; QuickBooks Pro 2013 goes for $250. Intuit plans to make both available for download from the QuickBooks web site on September 24, with general retail availability to follow on October 7.
During installation, the program advises you clearly and repeatedly that the new version will convert an existing QuickBooks file so that it's no longer readable by previous versions. Take the advice to create a backup copy before you convert in case you decide to stick with the older version of QuickBooks (you can install QB 2013 alongside an existing version). Also, if you're in the habit of sharing your QuickBooks file with your accountant, check to make sure he or she is also upgrading, or come tax time you may find yourself with a file the accountant can't read.
For new users, setup remains one of the easiest and most reassuring experiences in any small business accounting package: If you can enter the name of your business and your taxpayer ID, you can be creating invoices or entering expenses within minutes–but be prepared to do some data entry eventually. QuickBooks can make this chore easier by letting you import address books from several popular e-mail programs and services (for customer and vendor lists), Excel spreadsheets (for inventory items) and several other sources.
New Palette, New Layout
The new look is immediately apparent in the dramatic palette of the Home screen. In QuickBooks 2012, everything was pale white or grey, with pastel accents; in QuickBooks 2013, we see dramatic dark areas and accents.
Here's the new Home screen: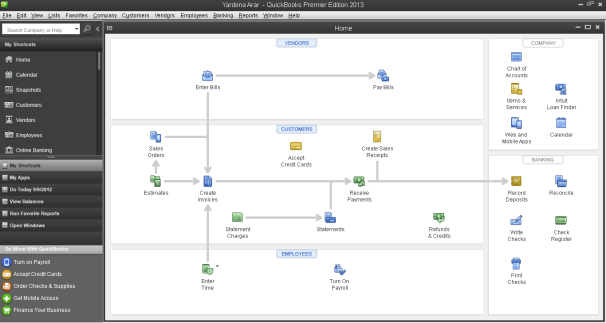 And here is the same screen in QuickBooks Premier 2012: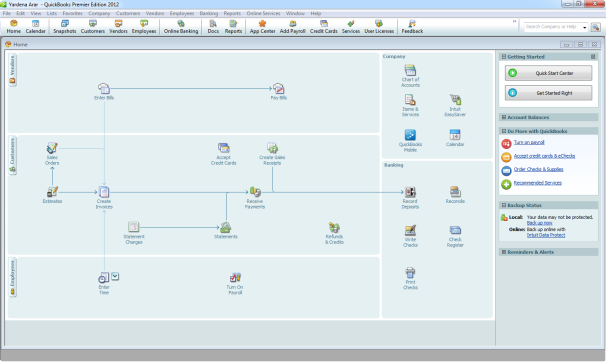 The layout is different too. While the main pane still displays the workflow diagram of years past, the icon row on top of that window is, by default, gone; instead, there's a new left navigational bar with a variety of links to other areas of the program, outside services and the like. If you don't like that look, you can switch the icon bar location to put it on top of the screen–or, you can hide it, which creates a strip along the left edge with a couple of icons and an arrow that you click when you need to see the nav bar again.
Here's the Home screen with the icon bar on top: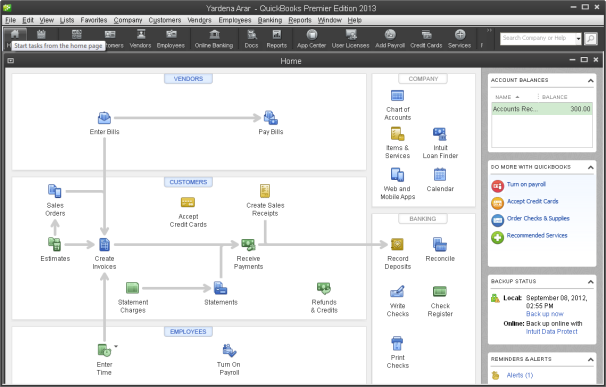 On the off chance that you hadn't noticed the design changes, Intuit has introduced a highly graphical What's New feature in the Help menu. It highlights the new features with bright yellow callouts while darkening the rest of the screen–not subtle, but effective: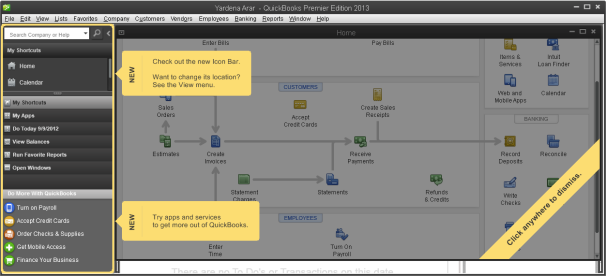 You can turn off the feature by unchecking it in the Help menu.
The nav bar persists regardless of what's in the main pane, and you can edit the items in the nav bar to suit your preferences. QuickBooks' defaults include a couple of entries designed to expose extras you may have missed in previous editions. For example, My Apps gets you to any third-party add-ons you may already be using–and to Intuit's app store where you might pick one or two up. Another link sends you to the report center, from where you can access an online library of some 6,000 reports from Intuit and other customers.
The Customer Center has a couple of tweaks, including the ability to add multiple notes to a customer record, and the use of tabs to get you quickly to all transactions, contacts, to-do items and notes about a given customer.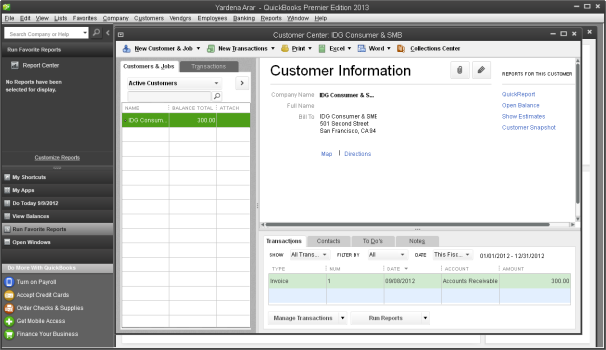 QuickBooks Gets a Ribbon
Another dramatic change appears in windows related to forms: a context-sensitive ribbon with buttons for relevant tasks. For example, on the Invoice screen, the ribbon on the main tab has buttons for every step of the invoice creation and sending process, and the formatting tab ribbon has buttons relating to the creation, customization and management of invoice templates.
Here's the Invoice screen with the main tab ribbon. Note, also, the collapsed navigation bar on the left side.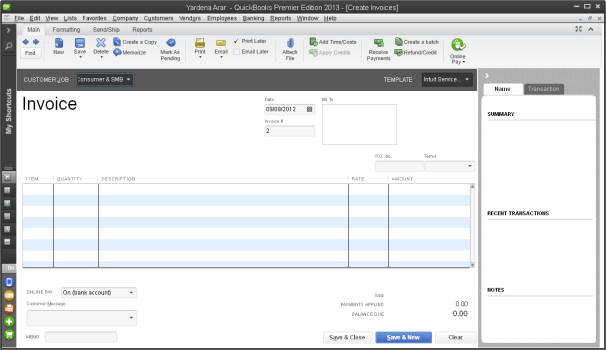 Somewhat oddly, there's a send/ship tab with links to services for sending items to customers, and a reports tab with buttons for running a report, transaction history and transaction journal–items that seem a bit removed from invoicing.
Intuit also touts some tweaks made to help customers figure out what actions to take on a given screen. For example, on the invoice screen, the button for saving an invoice and starting a new one is now a bright blue, presumably to suggest that this is what you might want to do once you've filled in the information for the invoice. I'm not sure this is particularly helpful since some customers may want to do something else–print the invoice, for example–and are probably able to figure out how to do so.
QuickBooks 2013 doesn't really address existing shortcomings: It's still not the best package for inventory-based businesses, for example. But most of the design changes are generally improvements in terms of making features more easily accessible, especially for newbies. Experienced users will likely grumble about having to adjust to a new look, but given Intuit's ongoing sunset policy for disabling online services for older versions of QuickBooks (right now, only QB 2010 or later is supported), they'll eventually have to fall in line.