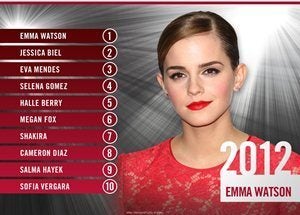 You'd better stop searching for Emma Watson online, because trying to find news or photos about the Harry Potter star gives you a more than 12 percent chance of getting infected with malware.
Security firm McAfee on Monday released its annual report of the most dangerous online celebrities with Watson leading the pack. If you use search terms such as "Emma Watson and nude pictures," or "…and fakes," or "…and busted," you run the risk of finding malicious websites designed to steal your personal information, McAfee says.
Other famous people leading this year's dangerous Web celeb chart include Jessica Biel, Selena Gomez, Halle Berry, Megan Fox, Shakira, Cameron Diaz, Salma Hayek, and, in tenth place, Sofia Vergara. The only two celebrities making a return appearance from 2011 were actresses Biel and Diaz; who led McAfee's list in 2009 and 2010 respectively.
Since McAfee began issuing its dangerous celebs list six years ago, 2012 marks the first time that not one man made it into the top ten. In fact, the only male presence inside McAfee's top 20 was talk show host Jimmy Kimmel (something tells me his search terms did not include "Jimmy Kimmel and nude").
Digital bad guys often use promises of lascivious photos or scandalous news about celebrities as a means to lure unsuspecting users to malicious websites loaded with spyware, adware, viruses, or phishing attempts. Typically, celebrities are picked based on the latest gossip and news. But McAfee cautions that's not always the case.
For example, absent from this year's list of the top 50 most dangerous celebs are Tom Cruise and Katie Holmes, who were recently divorced. Twilight stars and real-life couple Robert Pattinson and Kristen Stewart also failed to make the top 50 despite a recent cheating scandal.
Fear the double dot com
No matter who your favorite Hollywood stars are, McAfee advises you to be wary about the sites you visit online to get your fill of celebrity scandal. Your best bet is to stick to well-known sites from established organizations that promote the latest Hollywood gossip.
Even then, you need to be careful as online tricksters may try to fool you with a genuine-looking URL that is actually as phony as a Botox smile. For example, if you're not watching closely you may not realize that USMagazine.com.xyz.com is a phony URL taking you to xyz.com and not US Weekly's official site at USMagazine.com.
Beyond using common sense, you should also make sure your computer has the latest updates for your operating system, and, especially on Windows, run security software such as Microsoft's free Windows Defender.
Connect with Ian Paul (@ianpaul) on Twitter and Google+, and with Today@PCWorld on Twitter for the latest tech news and analysis.