With a refresh of Apple's iMac line expected soon, Hewlett-Packard appears to be trying to steal some of i-maker's thunder with a new sleek-looking all-in-one PC, the SpectreONE, running Microsoft Windows 8.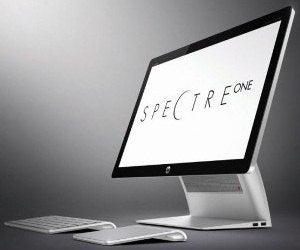 The new HP all-in-one, expected to reach retailers on November 14, has 23.6-inch, flush glass and a 1080p display, is less than half-an-inch thick (0.44 inches), and includes a wireless trackpad to take advantage of Windows 8 gesture support.
HP was a little vague on what's in the guts of the SpectreONE, saying it featured "the latest Intel processors" and a NVIDIA 1GB graphics card.
Other features include four USB ports (two 2.0 and two 3.0 ports), HDMI-in, Beats Audio headphone jack and NFC support.
NFC technology allows users to simply tap a smartphone or NFC tag on the base of the HP SpectreONE to instantly transfer content or login information to the PC. HP plans to sell tags that can be programmed with information like log-in data, according to Ubergizmo.
In addition, the system comes with full versions of Adobe Photoshop Elements 10 and Adobe Premiere Elements 10, as well as a two-year paid subscription to Norton Internet Security suite.
Optionally, the HP all-in-one supports ExpressCache from Condusiv Technologies to speed boot-up and application start times,
SpectreONE is priced to compete with Apple's 21.5-inch iMac. The HP model is expected to be priced at $1299, while the current 21.5-inch iMacs sell for $1199 with an Intel 2.5 GHz quad-core i5 processor and $1499 with 2.7GHz Intel i7 chip. The iMacs have AMD Radeon HD 6750 graphics.
The SpectreONE may have an edge spec-wise over the current crop of iMacs, but that might not be the case after Apple rolls out its new iMacs, possibly as early as next month. Those units are expected to be thinner (achieved by ditching the optical drive), have more powerful processors and graphics, support USB 3.0, and have expanded solid state storage (SSD) capacities.
While wishful thinkers would like to see Retina displays in the new Apple all-in-ones, that doesn't seem to be in the cards for them.
All-in-one desktop computers used to be considered a niche product, but they've gained popularity over the years. Apple has long been a leader in all-in-one sales, but it is expected to lose that mantle this year, with Lenovo selling some 4 million all-in-ones worldwide compared to Apple's 3.8 million.
Follow freelance technology writer John P. Mello Jr. and Today@PCWorld on Twitter.