It's been possible for some time already to watch the progress of Firefox OS through nightly desktop builds, but on Friday Mozilla posted a new video on YouTube that offers a fresh, up-to-date look at its forthcoming mobile operating system in action.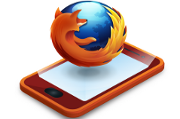 Recorded last Thursday, the video–embedded below–demonstrates the latest build of Firefox OS running on a developer phone by Chinese manufacturer ZTE.
Visible in the demonstration are the open source operating system's dialing capabilities, contacts list, built-in Firefox browser, virtual keyboard, camera, photo gallery feature, and Marketplace app for finding and downloading additional software.
Mozilla's video also demonstrates an app called Galactians2 by Space Monster Games running on top of the operating system.
Open Web Standards
For those who don't remember, Firefox OS began its life more than a year ago under the name "Boot to Gecko," which was officially changed to Firefox OS this past July.
Built using HTML5, the operating system is intended for use on smartphones built entirely to open Web standards, where all of the device's capabilities can be developed as HTML5 applications.
Operator partners in the effort include Deutsche Telekom, Etisalat, Smart, Sprint, Telecom Italia, Telefónica, and Telenor. The first devices featuring Firefox OS will be manufactured by TCL Communication Technology (Alcatel) and ZTE using Snapdragon processors from Qualcomm, Mozilla says.
Launching in 2013
"Due to the optimization of the platform for entry-level smartphones and the removal of unnecessary middleware layers, mobile operators will have the ability to offer richer experiences at a range of price points including at the low end of the smartphone price range, helping to drive adoption across developing markets," Mozilla explains.
Firefox OS-powered devices aren't expected to appear commercially until early 2013, when they'll launch first in Brazil through Telefónica's commercial brand, Vivo.
In the meantime, the operating system is looking pretty intriguing as an Android alternative. I'll keep you posted as more updates appear.