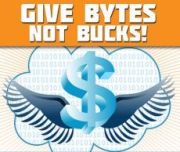 Cloud storage services are a dime a dozen these days — though there's usually at least a dime involved, especially if you want more than a few gigabytes of a space.
Last year, Symform shook things up a bit by offering up to 200GB of cloud storage free of charge, provided you were willing to share some unused space from your own local storage.
Today, the company unveiled a new pricing model — "Bytes or Bucks" — that gives business users virtually unlimited cloud storage at no charge.
It works like this: You sign up for a free Symform account, install the Symform software, and immediately get 10GB of space — no strings attached. If you want more, you must allocate some local storage, which you can do in unlimited quantities in return for extra Symform space. It's a 2:1 ratio, meaning if you contribute, say, 100GB of local storage, you'll get 50GB of Symform storage.
What you're effectively doing is joining the company's distributed network, which allows it to provide inexpensive storage without the need for pricey data centers. In other words, users are the data center.
So, wait a sec, you're basically agreeing to store your data on other users' hard drives? That sounds insane on a couple levels. First, what about security? Second, what happens if someone's system is down? Does that mean your data is unavailable?
Symform addresses these and other worthwhile questions on its FAQ page, but I'll give you a quick summary: The service employs 256-bit AES encryption to keep data secure and relies on a specialized storage architecture to prevent data loss. This is, the company says, "more redundant and secure than the centralized data center approach," which is used by pretty much every other cloud service (Dropbox, Google Drive, etc.).
Why not use your spare local storage for your own backups? Same reason you'd incorporate any cloud option into your backup plan: protection against fire, flood, theft, and other localized disasters.
To me this seems like a pretty cool solution, especially for smaller businesses seeking a secure, high-capacity backup solution that doesn't put a strain on their budget. What do you think? Would you be willing to put your data eggs into Symform's basket?