Attachments.me, which lets Gmail users send attachments to and access files on several cloud storage services, now also works with Microsoft's SkyDrive.
To add support for SkyDrive, Attachments.me is taking advantage of some recent changes Microsoft made to the SkyDrive API (application programming interface).
Now, users of the Chrome browser who have the Attachments.me extension are able to send Gmail attachments to SkyDrive and also access and share SkyDrive files from the Gmail interface.
It's also possible for users to create rules to automatically save certain Gmail attachments to SkyDrive, Microsoft said in a blog post on Monday.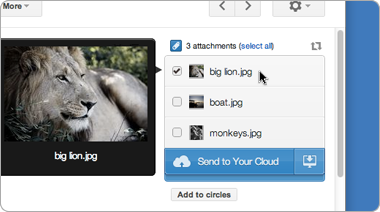 Attachments.me also works with other cloud storage services, including Box, Dropbox and Google Drive.
Microsoft recently eliminated SkyDrive API restrictions on photo resolution and content types, and it simplified the process for integrating SkyDrive "file picker" functionality with websites, making it similar to the process on Windows 8.
SkyDrive has become a key element in Microsoft's strategy for adapting its consumer and enterprise applications to the cloud model for accessing and delivering software.
For example, SkyDrive plays a central role in the cloud storage and collaboration capabilities of the upcoming new version of the Office productivity suite, called Office 2013 in its on-premise, single-license edition and Office 365 in its multi-user cloud subscription edition.
Juan Carlos Perez covers enterprise communication/collaboration suites, operating systems, browsers and general technology breaking news for The IDG News Service. Follow Juan on Twitter at @JuanCPerezIDG.