At a Glance
Expert's Rating
Pros
Comprehensive security suite
Our Verdict
Lock away your private files with a password known by you, and you alone.
Folder Lock 7 ($40, five-day free trial) is a one-stop-shop for file encryption and data security. It's impressive and affordably priced, and it fulfills basically every security need you can think of—making it a must-download if you need to secure your files.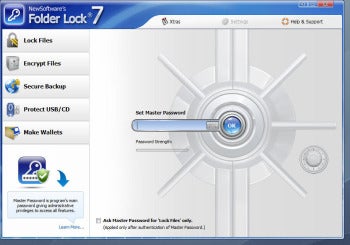 Not only does Folder Lock encrypt and hide volumes and folders with an on-the-fly 256-bit algorithm, it also protects USB drives and creates wallets to list and store important information such as bank accounts, online passwords, and the like. The program goes even further with a secure erase (shred) function, data lockers (think Window Briefcase), and the ability to run stealthily (that is, without any sign that it's operating).
Version 7 of Folder Lock added an optional online component so you can sync your data lockers to developer NewSoftwares' own storage service. The service cost $5 per month for every 10GB—not the cheapest but relatively competitive. The 10GB should be more than enough for only your secure data. Other handy features are login attempt tracking, and creating both normal and self-extracting password protected zip files.
The program couldn't be any easier to use, though the first time you lock and hide a folder it can be a bit odd to go to a drive and see it locked, or to find a folder missing. Folder Lock keeps two services running, but doesn't appear to impact performance. The program is completely password driven, so there are no certificates to lose as with Windows Bitlocker. There's a master password for the program, which you need to administrate it, including when you remove it.
Version 7.1 of Folder Lock ameliorates my previous complaint about the interface. It's even easier to use and a bit better-looking, but I still think it could use a more businesslike look. That said, the portable interface (you can open your lockers from USB drives on any PC using the portable version, which requires no installation) suffers less in this regard.
Also, while the lockers are perfectly secure, be aware that the hidden files and folders are hidden only while Folder Lock is running. You may access them freely by simply booting from CD such as Ubuntu Live or Parted Magic.
—Jon L. Jacobi