At a Glance
Expert's Rating
Pros
Flexible
Feature-rich
Logical linking
Our Verdict
Comprehensive personal database keeps your files, documents, Web pages, and contacts organized.
Ultra Recall Standard 5.0 ($49, 45-day free trial) is a simple outlining, note-taking and document management tool that is similar to TreePad and MemoMaster, but has a more robust set of features that I find especially useful.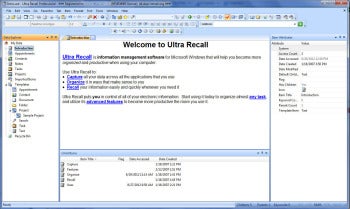 The "Data Explorer" pane shows your "Info Items" in an outline view. The central pane is a tabbed display that shows the actual information in each item. Other panes show child items or the attributes of the current item. There is a great deal of flexibility in how these panes are laid out, and Ultra Recall allows you to save and switch to a variety of layouts, so you can have one arrangement for some tasks and a different arrangement for others.
The hierarchical outline format for the Data Explorer pane is a well-worn standard. Ultra Recall offers a very nice new twist, though, and it is a feature I've been seeking for a while.
You can file the same item under multiple hierarchies, which is extremely helpful, as one of the weaknesses of the outline structure is that many pieces of information logically belong in different areas simultaneously. With Ultra Recall, you can use alt-drag to place a linked copy of an item under a different tree. Because this is a reference link, rather than a cut-and-paste of the information, you still only have one "copy" of the item, but it can be seen, edited, and so on under however many trees it logically belongs with.
An author might have a tree of "Characters," for instance, and also a tree for each chapter in a book. The same character can be found in the chapter tree for each chapter he appears in, and in the character tree, and anywhere else it makes sense to place that data item.
Also , you can give each item in the $100 Ultra Recall Professional (but not the $50 Standard) unique attributes. Attributes are simple data tags that allow Ultra Recall to add some structure to a piece of information. A good example is the built-in "Contact" item, which has attributes for name, phone number, and so forth.
Ultra Recall allows linking to files and external sources, such as Web pages. It also offers an in-app browser with the ability to save pages as items within your Ultra Recall database. The in-app browser is adequate, with some minor rendering issues on some pages.
While Ultra Recall's help file contains entries on most of the program's features, some of the information is sparse, and it could use more of a tutorial, rather than reference, slant.
The interface is generally clean and adheres to Windows UI guidelines, except for the annoying "partial menus" where only a subset of the items show until you hover on the menu for a few seconds. None of the configurations or settings could deactivate this behavior.
The Standard edition, at $50, lacks some import and export features, as well as the ability to add custom attributes or create custom forms. A full feature comparison is at developer Kinook Software's Web site.
The Professional edition, at $100, is at the higher end for programs of this type, but may well be worth it for many users, especially academics or those who have to manage complex projects that mix extensive text items, Web references, and formal data elements.
—Ian Harac