Amid so many tweets, status updates, and SMS messages, it can be easy to lose sight that "social" doesn't necessarily mean "brief," especially when it comes to internal communications. It's hard to talk about financing, customer relations, or a complex manufacturing process in 140 characters, after all.
How can you encourage employees to share their knowledge and expertise throughout the organization in a way that invites collaboration yet doesn't disrupt the workflow? (I'm giving you the hairy eyeball, memos and emails.) One answer: An internal blog.
It's not necessarily something your customers and competitors will see—and a public-facing blog is a different beast entirely. Given their nature, internal blogs aren't a great tool for managing the finer details of a project. Yet an internal blog, safe and sound on your company Intranet or behind password protection on a third-party service, lets employees bounce ideas around and disseminate their experiences rapidly and informally.
Internal blogs have many upsides:
Broadcasting employees' knowledge and expertise.
Creating a searchable, permanent archive of expertise. All the knowledge published on an internal blog stays there, and long after former employees have left the building.
Promoting open discussion and collaboration. Employees may be more likely to speak up virtually than face-to-face.
Connecting employees across department lines.
Keeping staff up-to-date on information that's important, but not enough for a meeting.
Creating accountability: Once you've blogged about something, it can't be denied later. Goodbye, email trails.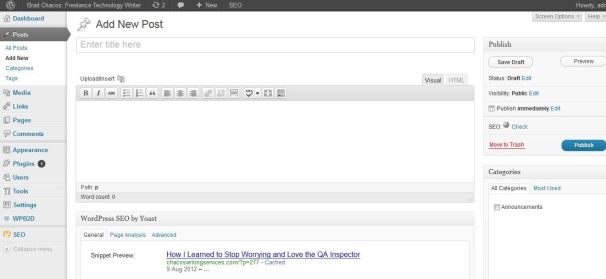 All that being said, an internal blog may not fit your organization. Internal blogs work best for stimulating discussion across multiple shifts and departmental lines. If those aren't major issues within your business, other social platforms may better suit you. For example, a wiki would work if your company's general communications are just dandy, but you need a tool for people to manage and update more formal information, such as project management or technical knowledge.
Before you set up an internal blog, do your homework, study the business case, and ensure that it's the right internal social platform for your organization. Even if an internal blog is just what your organization needs, don't just throw together a WordPress site and send out an email encouraging employees to join in on the fun.
Before an internal blog goes live, make sure to ask:
What's the reason for the blog? Sharing information; creating a collaborative forum to solve problems; creating a repository of knowledge and tips; offering sales or engineering support?
What standards and guidelines are in place for posting? Do your general conduct standards suffice or do you need to draft an additional social governance model?
What are the penalties for violating those rules? If you're in a larger business, has HR signed off?
Who gets to post? Executives, department heads, or everybody? Will there be a blogging schedule, "champions" who post frequently, or a free-for-all?
Will you require employees to keep tabs on the blog, or treat it as a supplemental resource?
Should you set limits—such as duration, timing or frequency—on how much time employees can spend reading the blog?
Should you set limits on the type of discussion on the blog? Should it be shop talk only or is the occasional off-topic post allowed? What about company rumors? What will you do if something negative occurs to your organization and a heated debate sparks up?
Most importantly, an internal blog should be not only an open forum, but also an effective resource—and a reflection of your company.