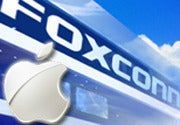 Apple supplier Foxconn has denied forcing vocational school students in China to work at its factories, following claims that the students must remain employed at the company or lose school credit.
Foxconn said in a statement on Tuesday the company has "long had a short-term internship program" to bring students from vocational schools to work at the factories. All the students are within legal working age, and on average make up 2.7 percent of the company's work force in China.
"The internship programs range in length from one to six months and students are free to leave the internship program at any time," the company said.
New York-based China Labor Watch, however, said it found instances of Foxconn interns being misled to come and work at a company manufacturing base in Zhengzhou, China, which is building Apple's new iPhone.
The student workers must continue to work, or else lose school credit and be unable to graduate, said Li Qiang, founder of China Labor Watch. But because media reports have been covering the controversy, Foxconn has issued a notice, saying students can return to their schools if they no longer wish to work, he added.
Labor experts have said the use of vocational students in factories is common in China. In the case of the students at Foxconn's Zhengzhou factory, schools are arranging the internships in order to make money from Foxconn, Li said.
Foxconn said in its statement that the schools themselves recruit the students under the supervision of the local government. During the internship, teachers are then assigned to "accompany and monitor" the students, who are paid the same wages as full-time entry-level workers.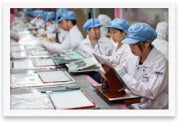 In denying the allegations, the Taiwanese manufacturing giant also pointed to recent audits of its factories carried out by the Fair Labor Association, which found no evidence that the students were pressured to continue with the internship program. Those audits, however, did not investigate factories in Zhengzhou.
While Foxconn denies any forced internships, a company worker in Zhengzhou said in an interview on Tuesday that there are cases of students being required to work at Foxconn in order to graduate.
Some interns have just entered their schools, but are being forced to work at Foxconn, he said. "If they don't come to Foxconn to work, they won't be able to get their diploma," he said. "I don't see what the benefit is of them coming from school to work here."
IDG News Service visited Zhengzhou last weekend. Foxconn recruitment offices are prevalent across neighborhoods near the factories and seeking to hire workers from age 16 to 45. Entry level pay starts at $284 a month.
One high school worker, aged 18, said he came to the factory to work as part of an internship arranged by his teacher. However, he said he came to work because there was little for him to do during the summer break. He declined to give out his name for fear of being punished.
Apple did not immediately respond to a request for comment.