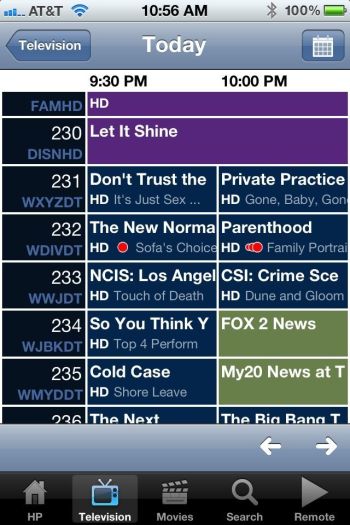 Regular readers know of my fondness for Microsoft's red-headed stepchild, a.k.a. Windows Media Center.
But I'm increasingly jealous of TiVo users, who can whip out their smartphones and scan the TV guide, set up recordings, and more using TiVo's remote-access app.
Thankfully, because I have a Ceton InfiniTV 4 USB tuner, I'm jealous no more: The Ceton Companion app for Android, iOS, and Windows Phone lets me control my media center from afar.
Update: According to a Ceton representative, Ceton Companion also works with non-Ceton tuners. Woo!
Specifically, it lets me view and interact with the TV guide, search for shows and movies, review recorded and upcoming movies, and even control Windows Media Center itself.
Perhaps best of all, Ceton Companion makes it possible to schedule recordings right from your phone or tablet, regardless of whether you're home or not.
Now for the bad news: You can't stream live or recorded shows to your device. That would be the ultimate, but for now it's not an option.
After installing the Ceton Companion Services utility for Windows, I fired up the iOS version of the app (which is priced at $4.99, same as the versions for other platforms).
Unfortunately, the app's auto-scan option failed to detect my PC, so I had to venture into the aformentioned Services utility, click the Network tab, and then manually enter IP addresses into the app. At least that did the trick.
From there it's a simple matter to navigate between the app's four main modes: Television, Movies, Search, and Remote. Television in particular offers a robust feature set, giving you a choice between a list or gallery of recorded shows, a list of scheduled recordings, a channel list, Windows Media Center's program guide, and a series manager.
For any given show you might spot on, say, the program guide, it takes just two taps to set up a one-time or series recording. You can also tap Tune Channel to start viewing the program immediately (though, again, that's on your TV, not on your mobile device).
Ceton Companion's remote isn't terribly attractive, basically just black buttons on a white background, but it gets the job done and saves you from having to juggle both your existing remote and your smartphone.
Although it lacks highly desirable streaming features and seems a little pricey at five bucks, Ceton Companion is without question a must-have app for owners of any Ceton tuner a TV-tuner-equipped PC. It greatly improves the Windows Media Center experience.
Contributing Editor Rick Broida writes about business and consumer technology. Ask for help with your PC hassles at hasslefree@pcworld.com, or try the treasure trove of helpful folks in the PC World Community Forums. Sign up to have the Hassle-Free PC newsletter e-mailed to you each week.