The FBI is getting ready to roll out a new nationwide program to better identify criminals called the Next Generation Identification (NGI) project. The new program is expected to add biometric data to Bureau's toolkit with iris scans, DNA analysis, voice identification, and even the ability to pick out a person's face in a crowded street using surveillance cameras.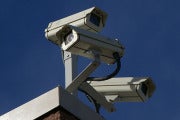 The FBI and Lockheed Martin Transportation and Security Solutions, who won the NGI contract, have received $1 billon to make its NGI project a reality. According to New Scientist, a handful of states have already created a criminal photo database as part of a NGI pilot program that will go nationwide by 2014.
Theoretically, the NGI system would be able to use its mugshot database to pick out criminals in a crowd using a face-matching algorithm. The program would scan for faces in footage taken by security cameras or public images uploaded to the Internet. The algorithm would then return a number of hits for investigators to look into.
Of course, this sort of surveillance raises some obvious privacy concerns. The FBI states that it has conducted a Privacy Impact Assessment for NGI and that the program falls in line with the Privacy Act. In other words, it's totally legal and is not considered law enforcement overreach.