At a Glance
Expert's Rating
Pros
Very good cloud integration with mobile apps to support the initiative
DLNA media server
Better than average TCP throughput with 2.4GHz 802.11n
Cons
Fewer features than similarly priced 802.11ac routers
Only one USB port to support storage or a printer–not both
Very slow performance writing large files to an attached USB hard drive
Our Verdict
D-Link's is on the right path with its cloud initiative, but the DIR-865L isn't the best 802.11ac router we've tested.
D-Link has been going ga-ga over the cloud lately, introducing a raft of new routers, NAS boxes, wireless IP cameras, and mobile apps that let you manage your network and the devices attached to it by using a PC, a smartphone, or a tablet (as long as those mobile devices run on iOS or Android; Windows 7 and BlackBerry uses need not apply).
The DIR-865L reviewed here is a user-friendly, dual-band 802.11n/802.11ac router. It supports three spatial streams to deliver maximum theoretical throughput of 450 megabits per second on the 2.4GHz frequency band and maximum theoretical throughput of 1.3 gigabits per second on the 5GHz band.
D-Link doesn't offer an 802.11ac bridge at this time, so the company recommends that users who want an 802.11ac network buy two DIR-865L routers and configure one as a bridge. The device is designed to stand vertically, with no provisions for setting it up any other way (including wall-mounting it). The antennas are hidden inside its glossy plastic enclosure.
The DIR-865L ($190) comes with a single USB 2.0 port. Each of the other four routers in its price range that I evaluated provide two USB 2.0 ports, so you can share both a USB storage device and a printer over your network. D-Link makes you choose between the two. I didn't evaluate the process of setting up a printer, and my experience with sharing a USB hard drive was disconcerting. The router seemed to think that I would only ever want to access an attached drive using a Web browser and D-Link's HTML front end, rather than mapping the drive to my Windows computer directly.
Aside from the MyDlink cloud services, this router has fewer features than the Asus and Netgear 802.11ac routers. D-Link provides a DLNA-certified media server, plus an iTunes server and a VPN pass-through for secure remote network access. If you have young children or teenagers in the house, the parental controls provided by OpenDNS (you'll have to sign up for a free account there, in addition to signing up for a MyDlink account) can help prevent them from wandering into less-than-savory Web destinations.
The DIR-865L is a dual-band router, and can run a 450-mbps 802.11n network on the 2.4GHz frequency band and a 1.3-gigabit 802.11ac network on the 5GHz frequency band simultaneously. The router arrived from the factory with its 2.4GHz radio configured to deliver 20MHz of bandwidth (channel bonding disabled), and its 5GHz radio configured to deliver 80MHz of wireless bandwidth (channel bonding enabled in 802.11ac mode).
Benchmarking 5GHz 802.11ac performance
I used an AVADirect laptop equipped with a 2.5GHz Intel Core i5-3210M CPU, 4GB of memory, and an integrated Intel Centrino Ultimate-N 6300 Wi-Fi adapter to run my benchmark tests. The Ultimate-N 6300 can send and receive three simultaneous 150-mbps spatial streams (450 mbps in total); most adapters are limited to handling two (300 mbps in total). This was all the streaming I needed to evaluate the D-Link's 802.11n performance (on both the 2.4GHz and 5GHz frequency bands). To measure the router's 802.11ac performance on the 5GHz frequency band, I configured a second DIR-865L as a wireless bridge and connected it to the AVADirect's ethernet port.
To test the router, I positioned the client successively at five spots inside and outside a 2800-square-foot, ranch-style home (distances from the router are noted in each chart below). I used the open-source IPERF benchmark (and the JPERF Java graphical front end designed for it). To measure the router's downlink TCP throughput, I set up the laptop as a server and used a desktop PC hard-wired to the router as the client.
The DIR-865L delivered disappointing third-place finishes at most locations, including at close range, with the router and client in the same room and separated by just 9 feet.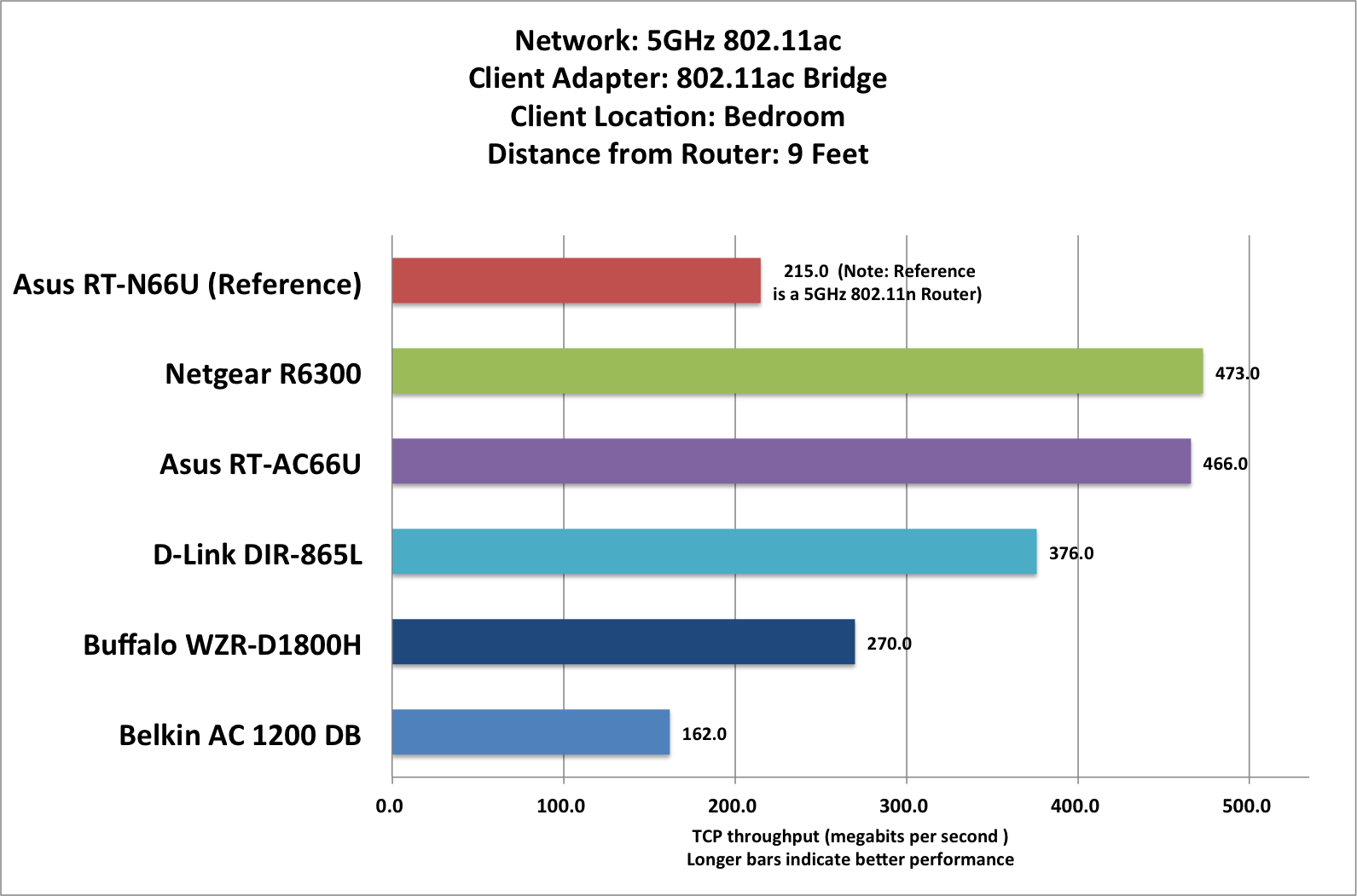 The DIR-865L delivered identical performance when I moved the client and bridge into my kitchen, 20 feet from the router with one wall separating them from the router. The DIR-865L must have consistent omnidirectional antennas, because the bridge faced the router in the bedroom, but it was perpendicular to it in the kitchen. As the chart below indicates, the combo was much faster than my 5GHz 802.11n reference-point router, but considerably slower than the two fastest 802.11ac routers it competes directly against: the Asus RT-AC66U and the Netgear R6300.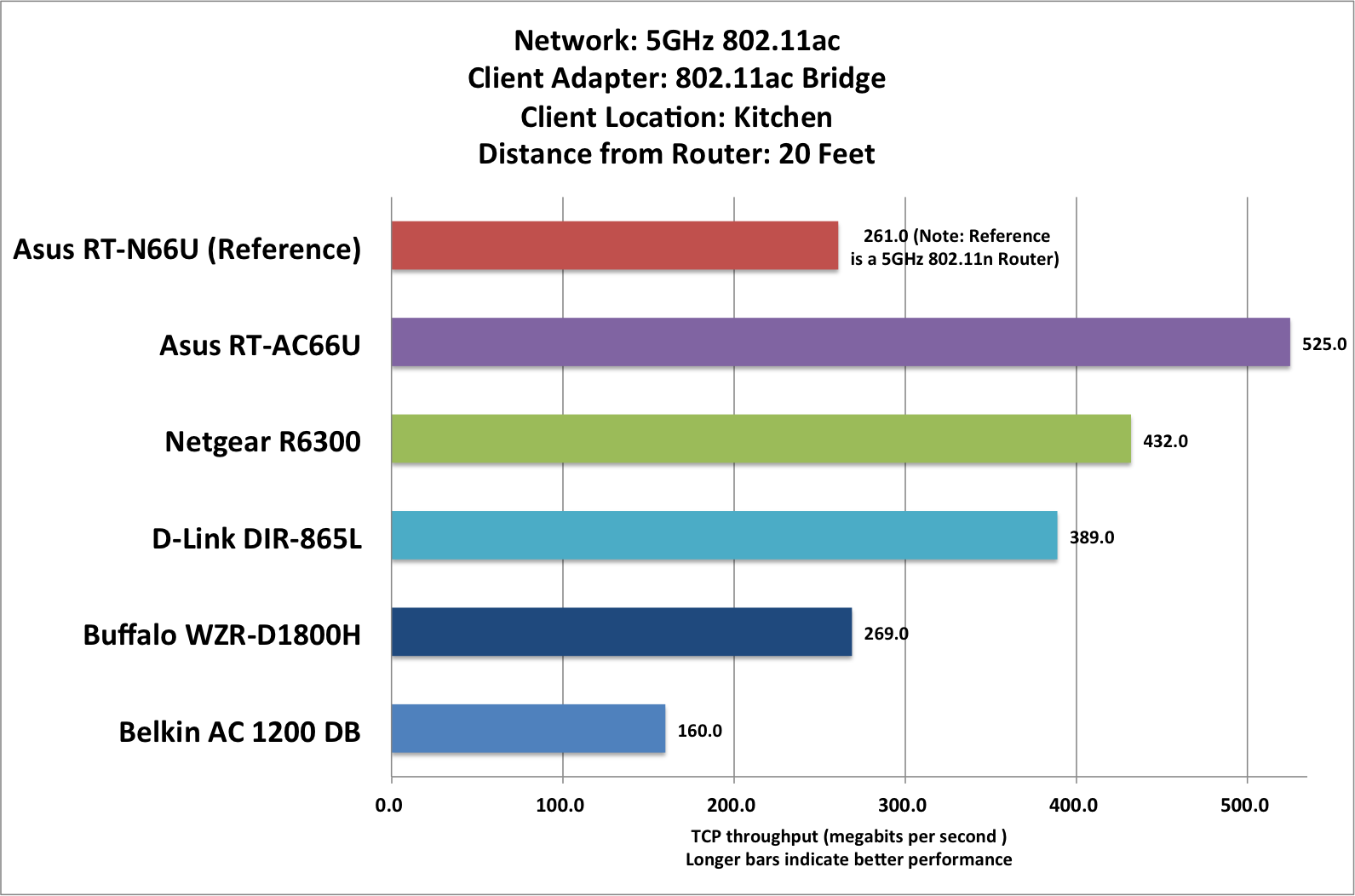 The next two benchmark runs took place inside my home theater. This is a room-within-a-room design, with four walls of 2-by-4 framing and drywall inside four walls of 2-by-6 framing and drywall, with about 6 inches of dead air and fiberglass insulation separating them. My intent was to optimize the room's acoustics, not to build a Faraday cage, but many lesser routers and other wireless devices have had trouble penetrating it. However, none of the 802.11ac routers I tested had any difficulty reaching the client in this room, and the DIR-865L's performance was about on a par with the two generally faster Asus and Netgear 802.11ac routers.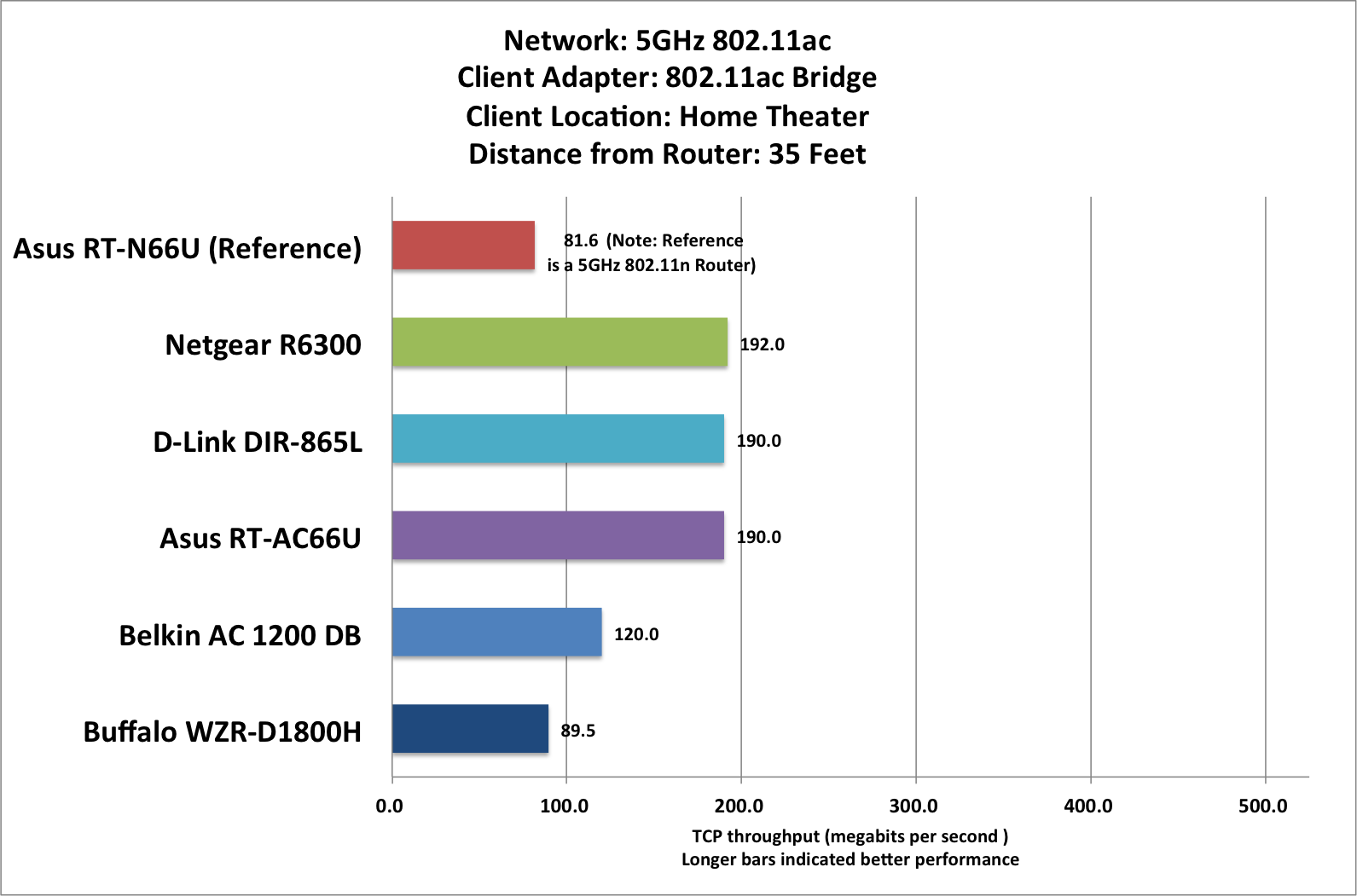 Since many people will want to connect the gear in their home entertainment system to an 802.11ac network, I decided to measure TCP throughput with the wireless bridge inside the built-in equipment cabinet in my home theater (the floor-to-ceiling, wall-to-wall cabinet is constructed from cabinet-grade plywood, including the back). The DIR-865L's TCP throughput dropped by just 29 mbps in this scenario, and its bit rate of 161 mbps per second gave it a second-place finish. I was able to wirelessly mount and stream a Blu-ray ISO image of the movie Spiderman 3 from a Windows Home Server 2011 machine in my home office to a home-theater PC in the entertainment center, including the movie's high-definition multi-channel soundtrack.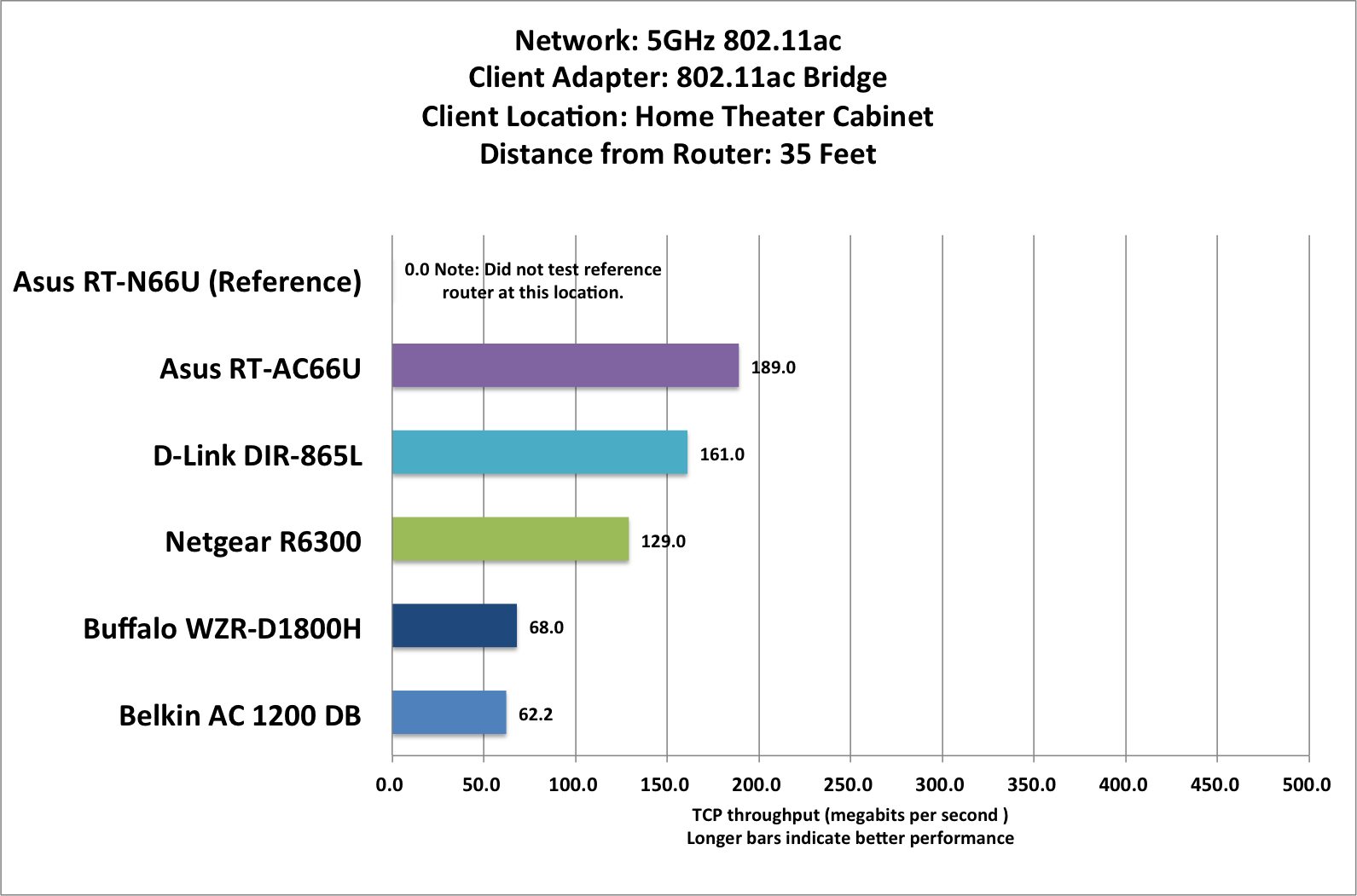 The DIR-865L's performance rebounded when I moved the client and the media bridge to the first of my two outdoor test locations?an exterior patio enclosed by three walls and one half wall with glass windows. The signal from the router travels a more direct path to this location, even though it must pass through two insulated walls. In the real world, I doubt that anyone would try to set up a media bridge outdoors because dragging the bridge and finding an outlet (and likely an extension cord) are too inconvenient. But I wanted to see what kind of range the D-Link would deliver.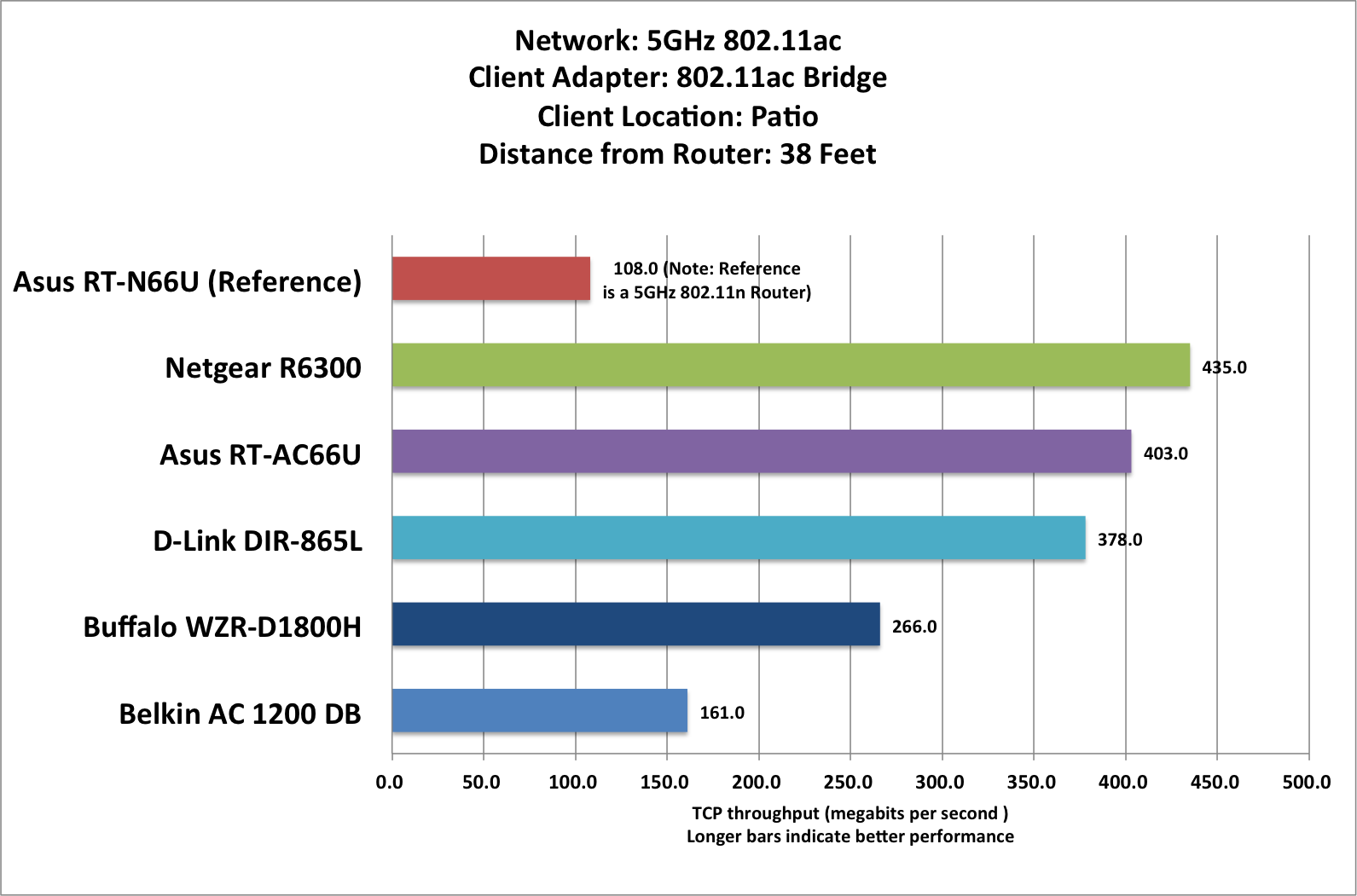 The DIR-865L's performance really surprised me when I moved the client and bridge out to a picnic table completely outside my house. At this location, the router and client were 75 feet apart, separated by three insulated interior walls and one insulated exterior wall clad on one side with fiber-cement lapboard. Under these conditions, the reference 5GHz 802.11n router delivered TCP throughput of just 30.2 mpbs, but the D-Link achieved a whopping 152 mbps?the best performance of the five 802.11ac routers I tested.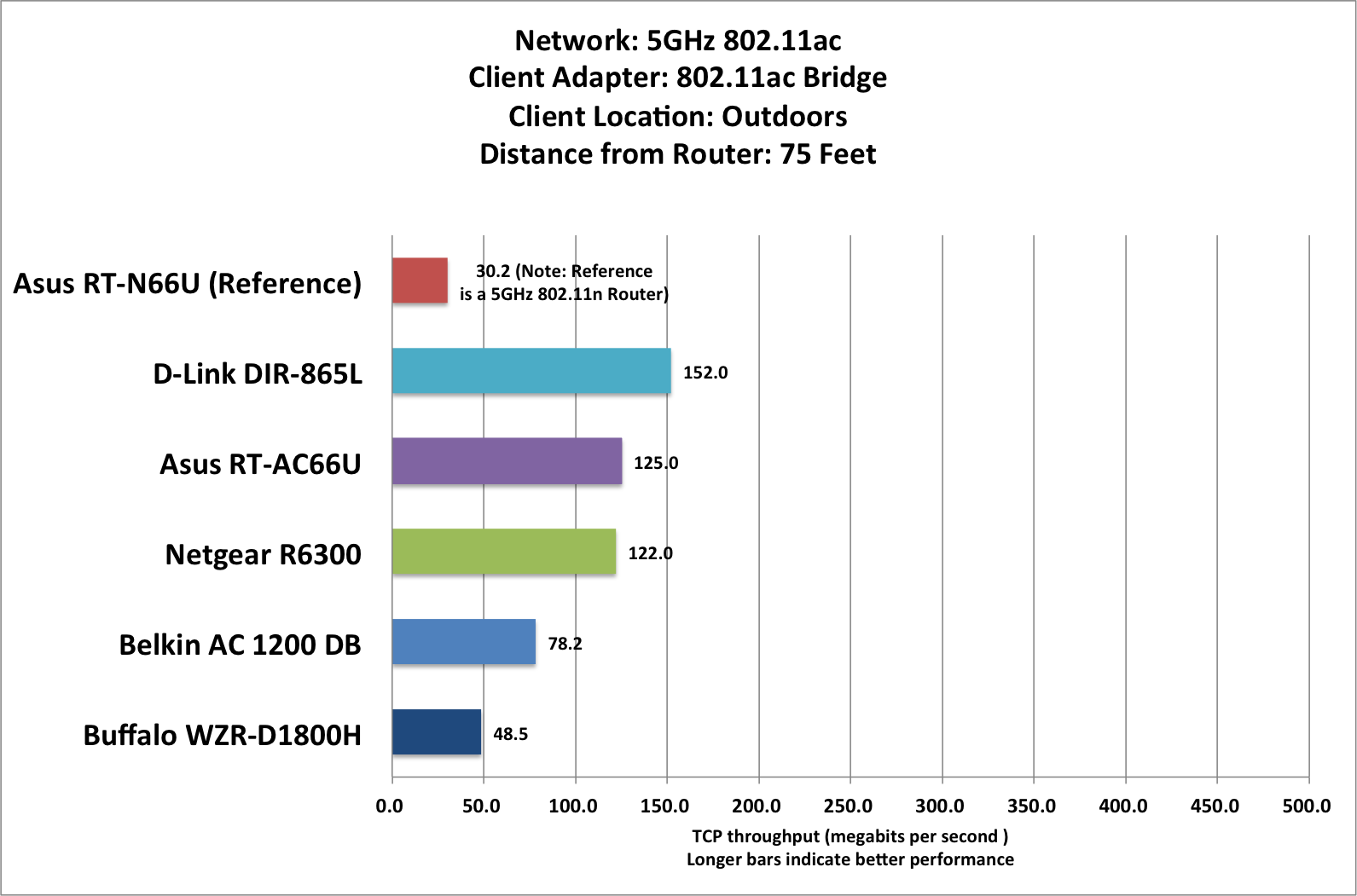 Benchmarking 2.4GHz 802.11n performance
Unlike several of the other routers we tested, D-Link provides no mechanism for forcing the router to channel-bond. When I initially set up the router, it detected the presence of at least one other 2.4GHz wireless network operating in the vicinity and refused to turn on channel bonding on its own. This behavior wasn't unusual?most of the other 802.11ac routers refused to engage in channel bonding on the 2.4GHz frequency band, as well?but the D-Link's performance on this band was pitiful both when the client was in my kitchen test location and when it was at its farthest distance from the router (75 feet, with four insulated walls in between). As you can see in the charts below, the DIR-865L placed last in both locations.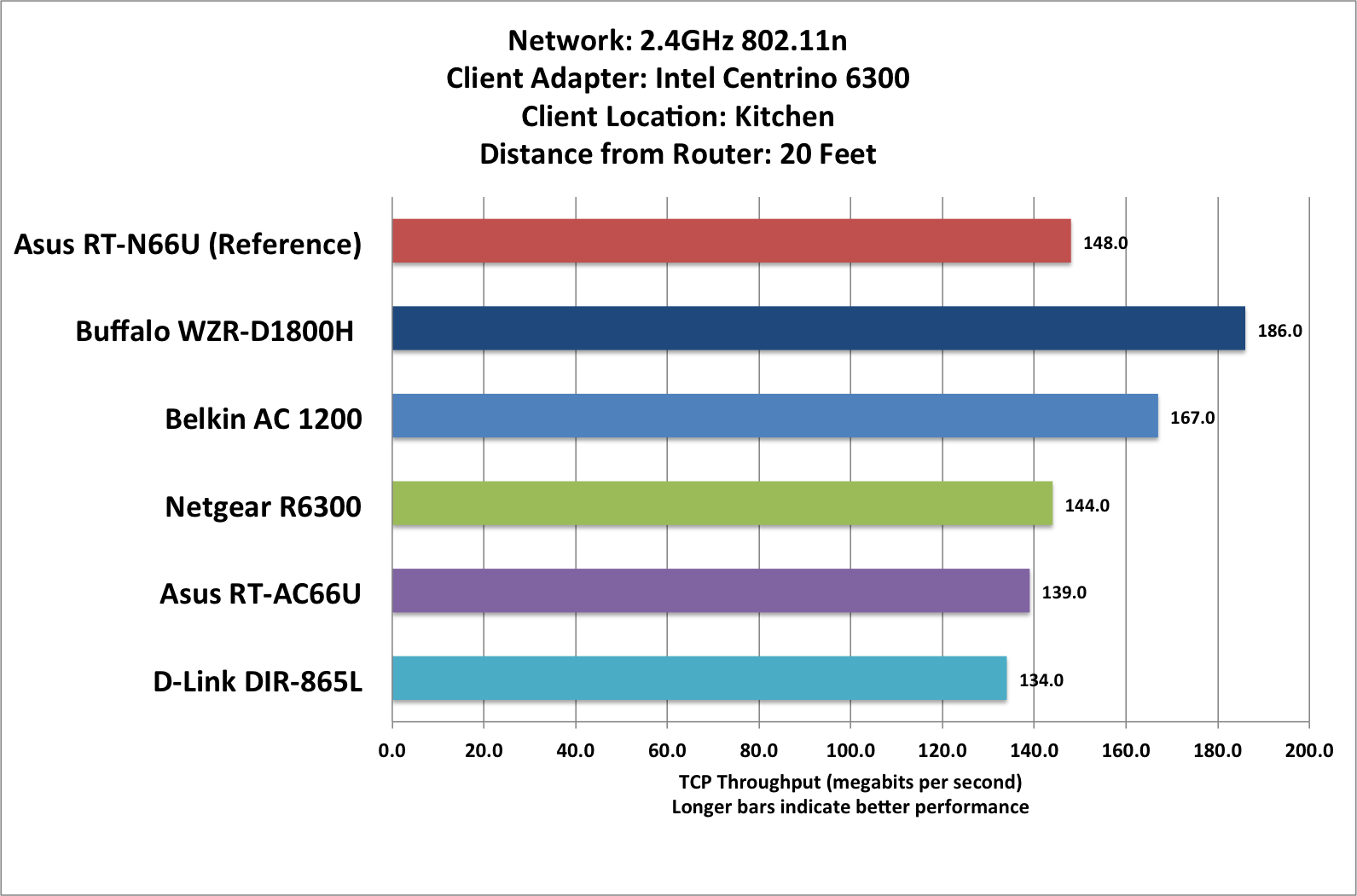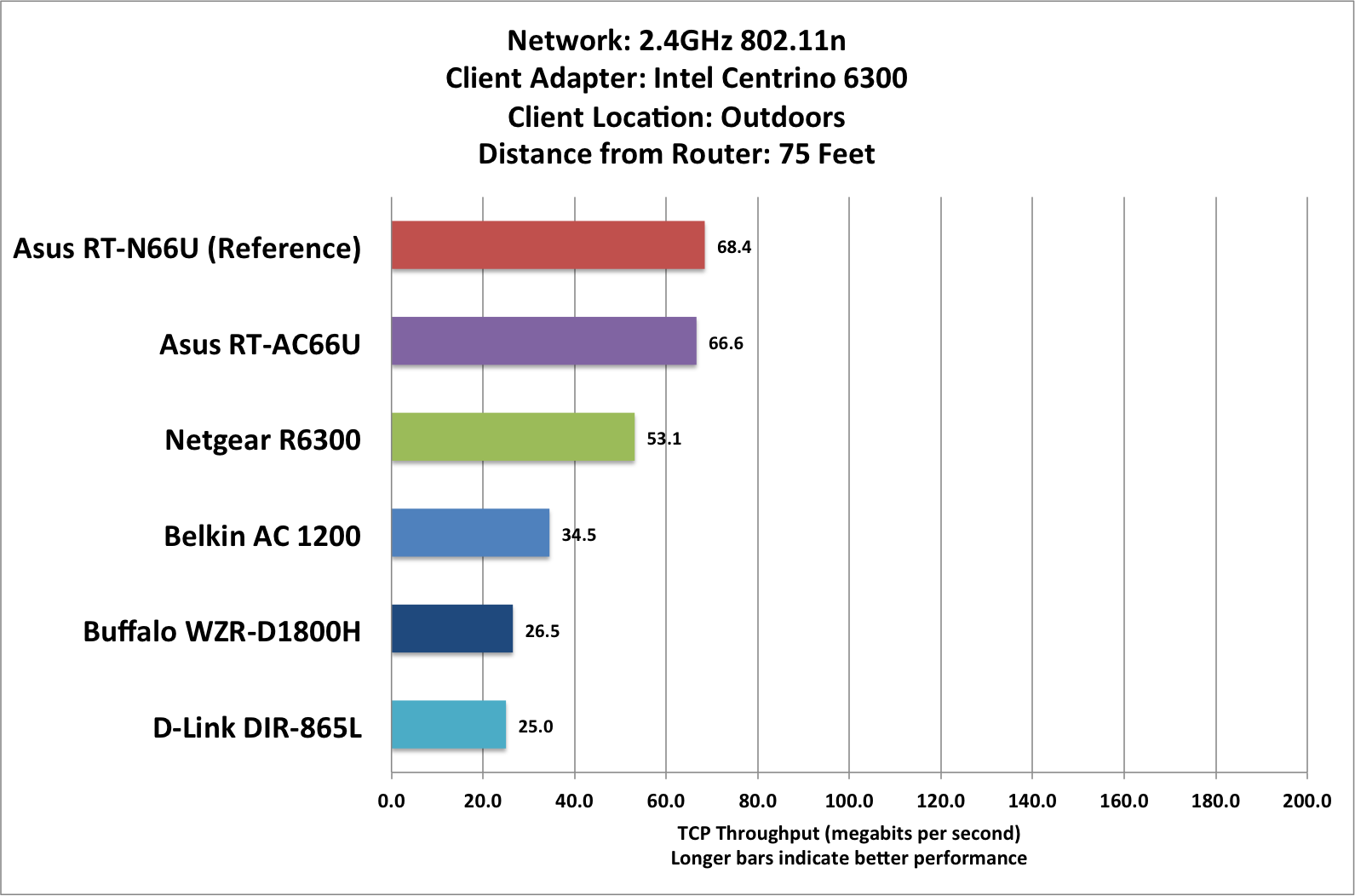 I have no complaints about the DIR-865L's hardwired ethernet performance. It was just as fast as the quickest routers in the roundup.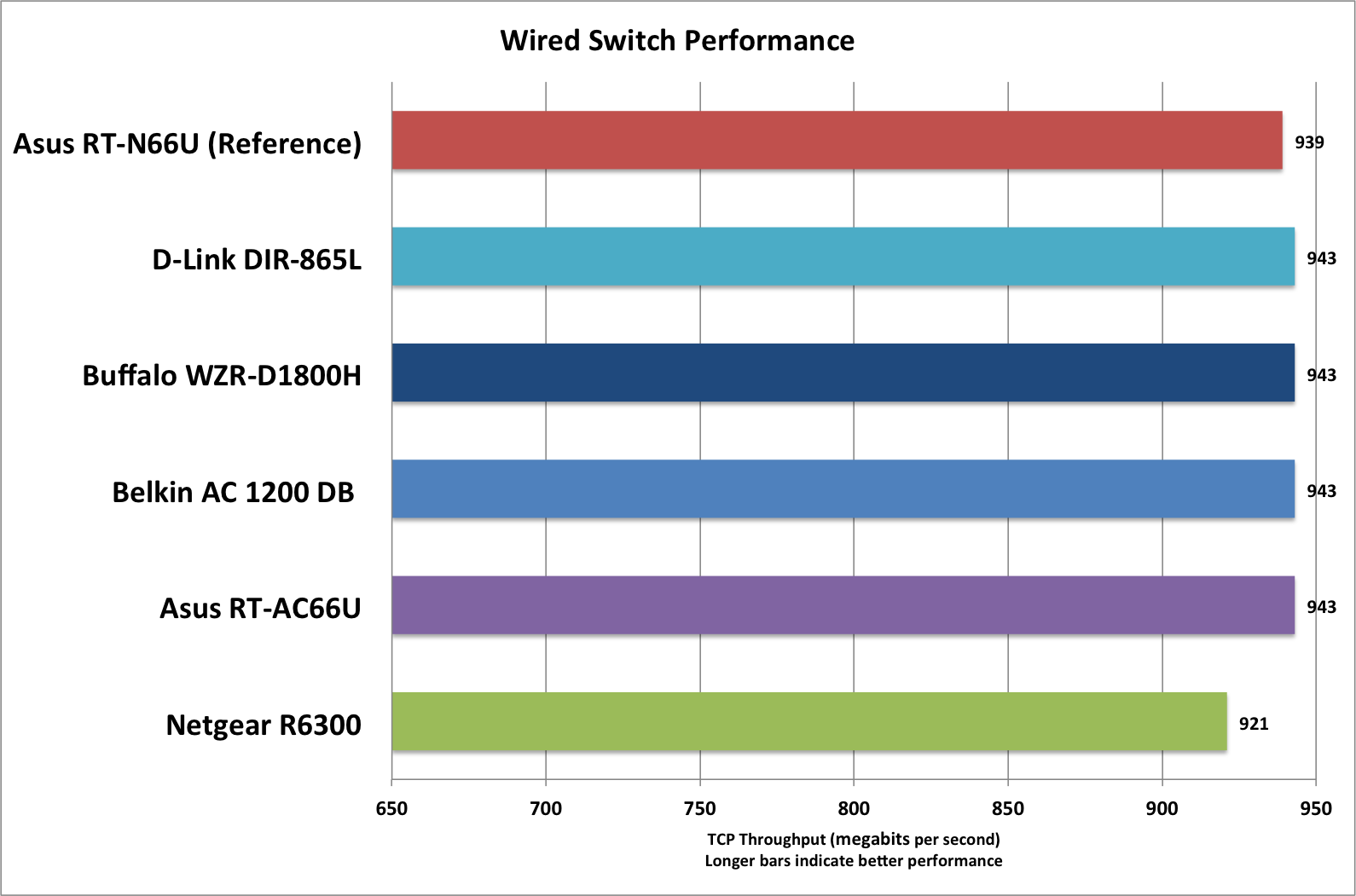 To evaluate the DIR-865L's performance as a network-attached storage device, I connected a 500GB Western Digital My Passport USB drive to one of the router's USB ports. I used a stopwatch to time how long it took the unit to copy a few files from a PC to the drive over the network (a write test), and then I copied a few files from the USB drive to the networked PC over the network (a read test). The PC was hardwired to the network.
I created a large-file test by ripping a DVD (Quentin Tarantino's From Dusk to Dawn) to the PC's hard drive. Copying this 4.29GB file from the PC to the portable hard drive took the router more than 20 minutes to accomplish. As bad as that sounds, it was 10 minutes faster than the Belkin AC 1200 DB (both routers scores are off the chart, below); and Buffalo's WZR-D1800H doesn't support NTFS-formatted drives, so I couldn't benchmark it at all.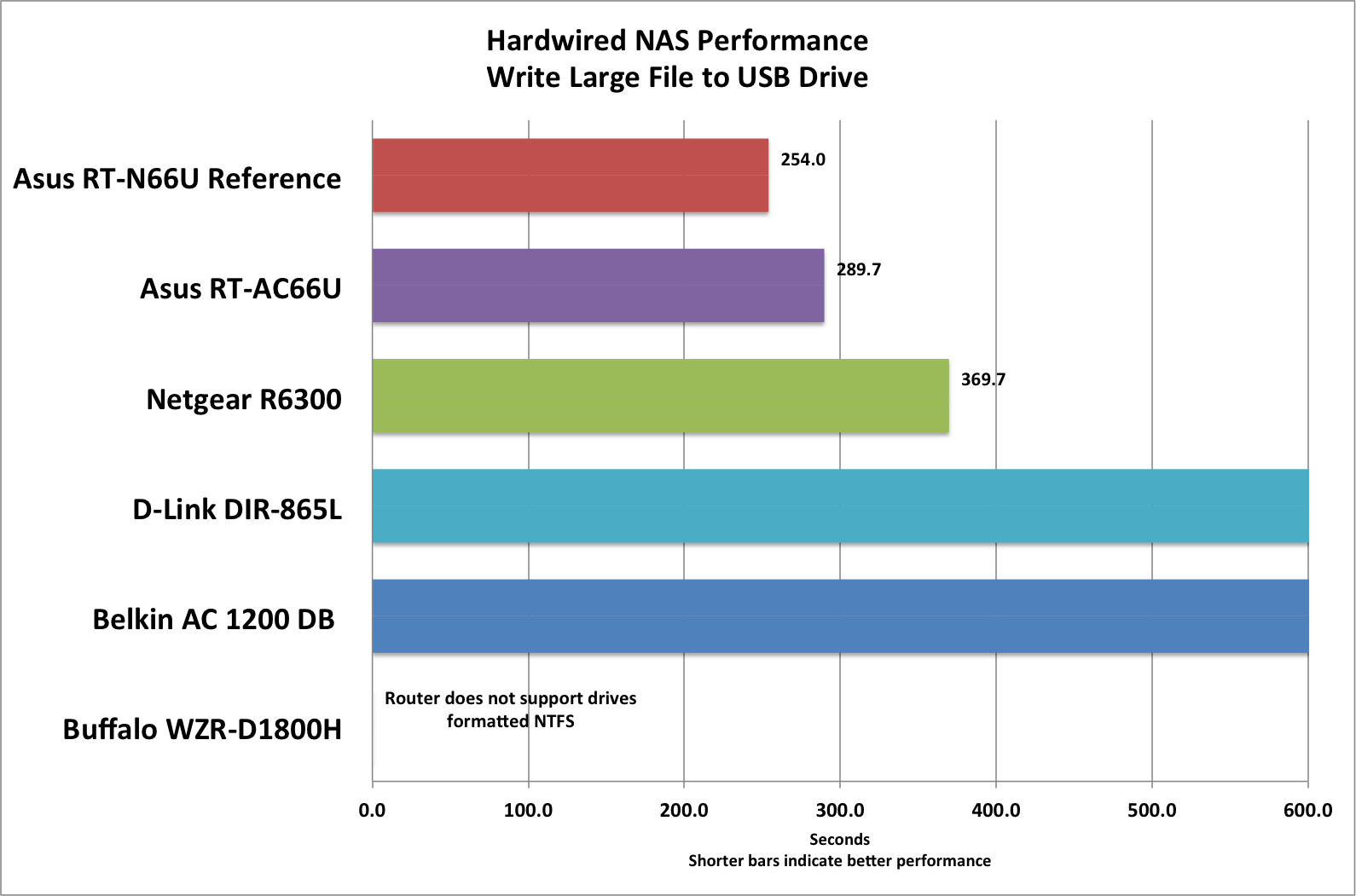 The DIR-865L's read performance with this single large file was far less dismal, but it wasn't anything to boast about, either. The router took last place behind the other four 802.11ac routers, and it was slower than the Asus RT-N66U reference router, too.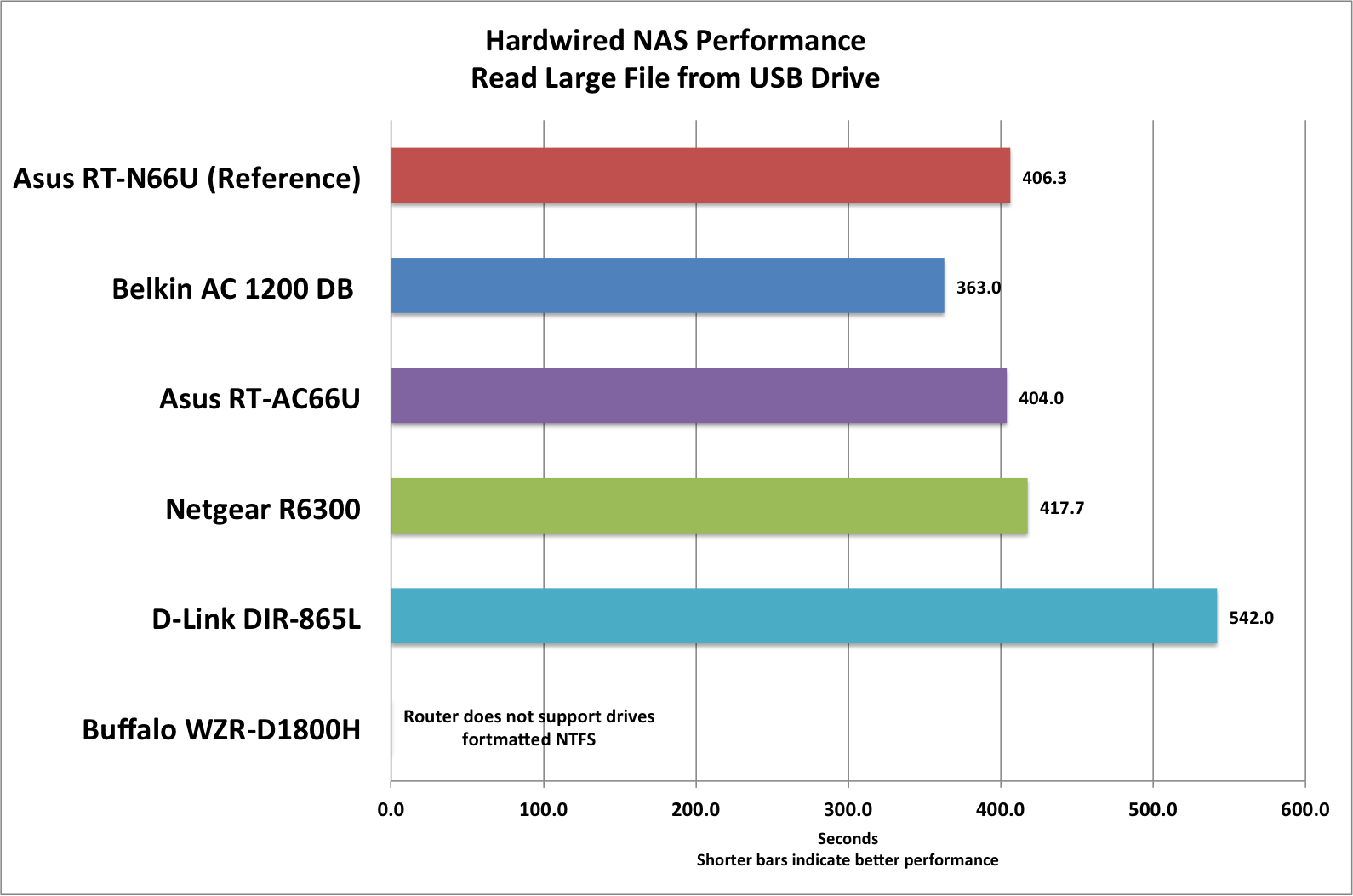 Unless you rip a lot of movies from DVD or Blu-ray discs, you'll rarely move a single large file to a hard drive attached to your router. A more common task is to move batches of small files back and forth across your network. To evaluate each router's performance in this scenario, I created a single folder containing 595MB of small files (subfolders containing music, graphics, photos, documents, spreadsheets, and so on).
D-Link's DIR-865L write performance with this batch of small files was (relatively to the other routers) only slightly better than its large-file performance: The router required a full 3 minutes to transfer the files from a host PC to the USB hard drive attached to it. As you can see in the chart below, that meant a next-to-last finish in this category–though the Belkin's last-place finish here was positively abysmal.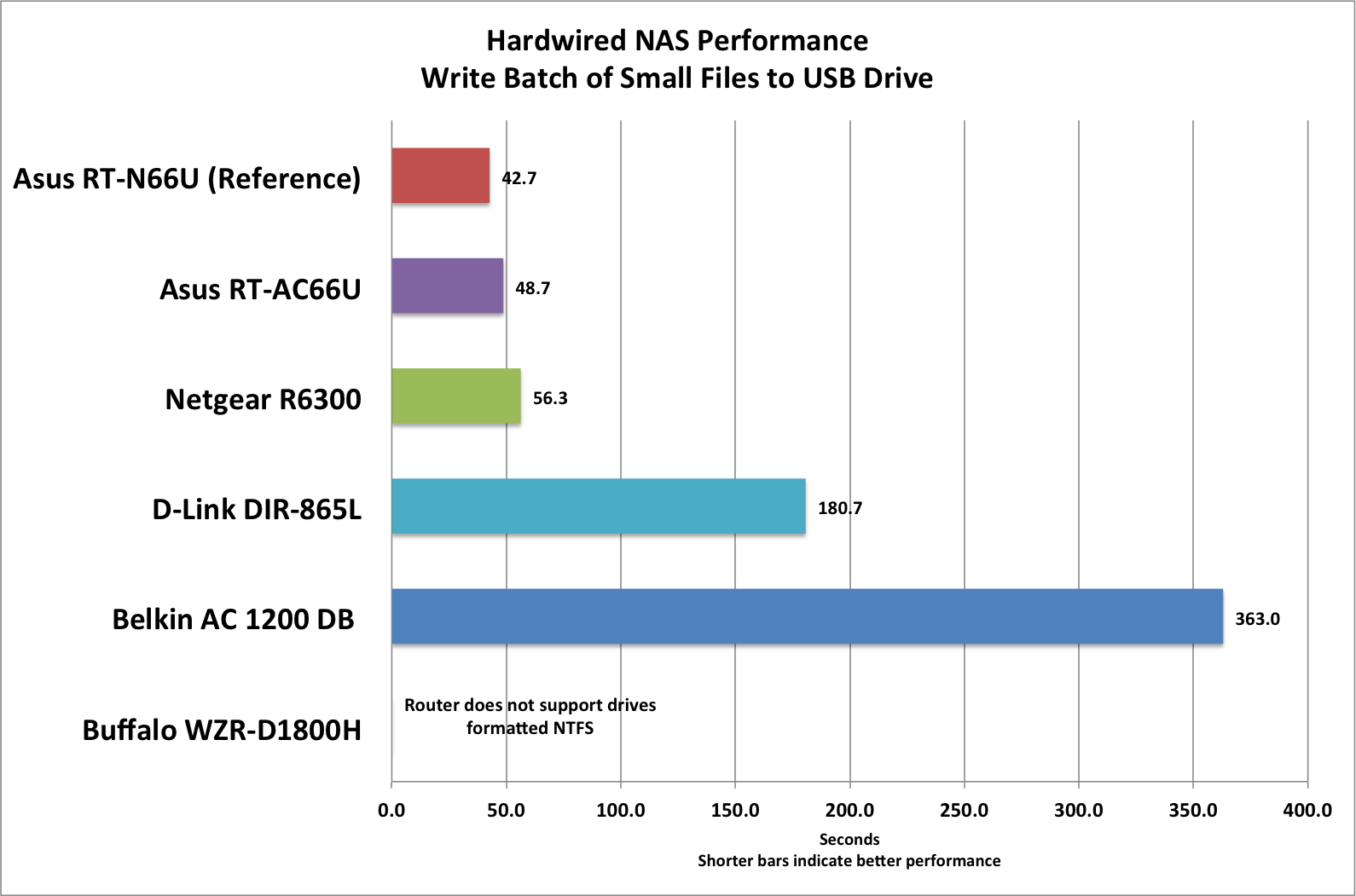 The DIR-865L didn't improve its standing when retrieving those small files from the attached hard drive, finishing next to last again.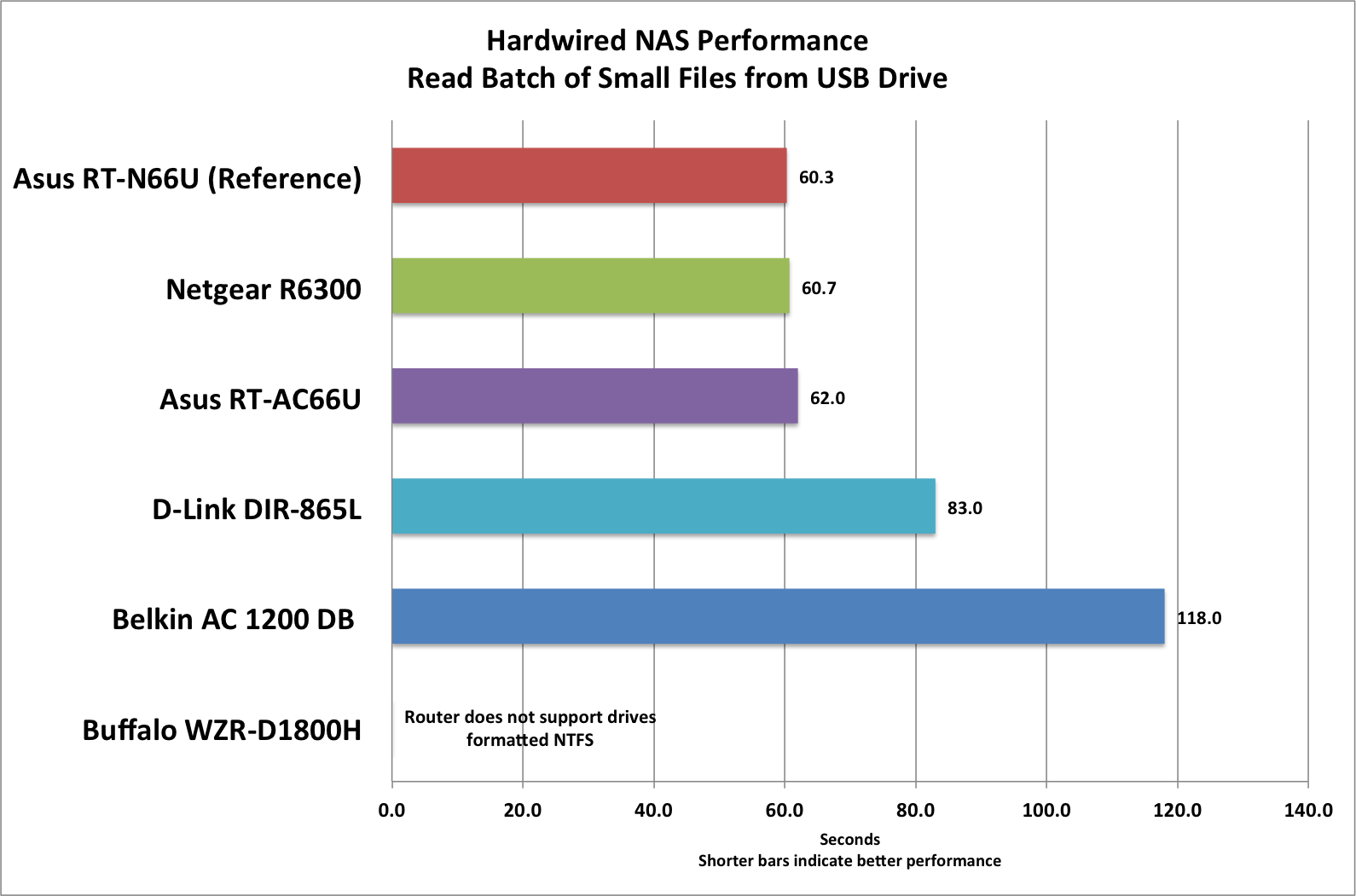 Bottom line
The D-Link DIR-865L lacks many of the advanced features its competitors offer, and it isn't as fast as the best of them. Those factors make it difficult to justify the D-Link's price tag of $200, which is the same as for the Asus RT-AC66U and the Netgear R6300. Though I do like the MyDlink cloud services and the ability to retrieve files from a network-attached storage device over the Internet, D-Link needs to improve the router's firmware significantly before I can recommend that anyone buy it.
Note: This review is part of a roundup. Click here to read the introduction to the story and find links to the other 802.11ac routers reviewed at the same time.
Note: When you purchase something after clicking links in our articles, we may earn a small commission. Read our affiliate link policy for more details.