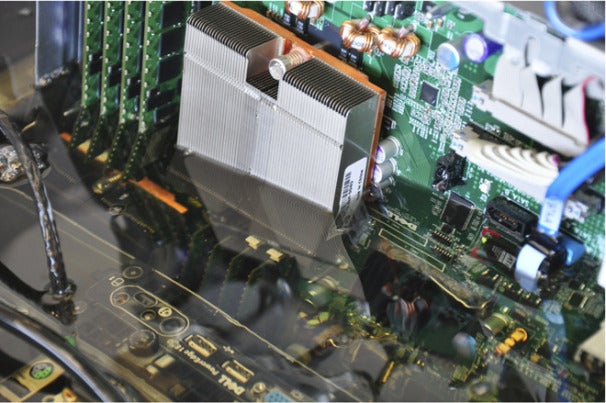 If you've got a hardcore gaming PC with two or more video cards, you know that the best way to cool it is with a liquid cooling system and a thousand more fans all over the case. Some researchers, however, are onto the idea that the best way to cool computer components could be to just dunk the whole thing a vat of oil.
Slashdot says that Intel has been submerging some of their servers in oil for over a year now. Of course, these aren't just regular pits of flammable oil; these are extremely specialized pools of mineral oil designed by Green Revolution Cooling (GRC).
GRC says that the mineral oil is almost as effective as water liquid cooling systems, and since it doesn't conduct electricity, the oil can be used as an immersion-cooling medium. The oil does not just sit there to collect heat, though, the system is equipped with a pump that circulates the hot oil to either a coolant-to-water heat exchangers or an air radiator system.
So far GRC only has units that are meant to replace our massive air-conditioned server rooms. After a year-long trial with GRC oil immersion cooling, Intel found that its oily servers ran with some of the best power usage efficiency ratings it has ever seen, beating out the old fashioned air-cooled units. What makes it even better is that the oil did not cause any hardware degradation at all.
GRC expects that their system could be made even more effective with heat sinks that have been adapted for immersion cooling. If this whole oil cooling method comes to typical desktop PCs, it could completely change the way computer towers are built with no need for fans and the ability to pack in more components.