Windows 7 does a pretty good job of keeping itself in good operating order. The bad old days of Windows 95 and even XP bogging down under constant use are gone. Still, junk does build up if you're not careful, so cleanup/utility programs such as the easy-to-use AOL Computer Checkup suite ($5 per month, $40 per year) remain on the market.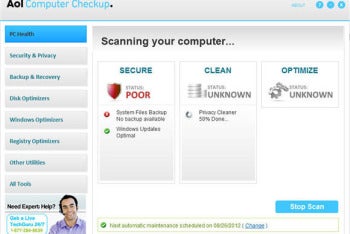 AOL Computer Checkup does a lot more than clean things up, though its registry cleaner is one of the best in the business. There are quite a few nice utilities that optimize and provide additional functionality. My favorite is the file encryption, which operates on a file-by-file basis. AOLCC also includes memory and battery optimizers, which had little perceptible effect on the systems I tried them on. Several backup routines and an undeleter round out the package.
Generally speaking, advanced users will find the options they need in AOL Computer Checkup: You can deselect files and registry entries that have been identified for removal, etc. However, the program worked quite well without user intervention. I didn't discover it trying to remove anything that it shouldn't, which can't be said for all the programs out there. That said, it didn't seem to realize that my C: drive was on an SSD, which benefits not at all from defragging.
I'm not a proponent of optimization software in general these days. The effect is rarely noticeable and you can get nearly the same results by simply removing all the garbage software such as toolbars (AOL Computer Checkup will install the AOL toolbar if you let it) and running a free registry cleaner such as CCleaner. However, since you can basically rent AOL Computer checkup for $5 for a month ($40 yearly) and its tool set is so broad, a once-a-year visit with it might not be a bad idea.
Note: The Download button takes you to the vendor's site, where you can download the latest version of the software. This software is developed by Support.com.
—Jon L. Jacobi