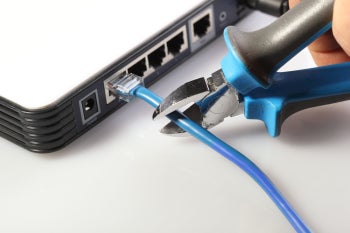 Intel demonstrated a new technology on Thursday that promises to rid computers of many of the connectors and cables that are needed today to connect to a myriad of peripherals and other devices.
Called WiGig, the technology has been under development since 2009 and aims to replace cables by using a high-bandwidth, high-frequency wireless data system.
"Since inception of the WiGig alliance back in 2009, we always had the vision that we need to develop a very high-throughput wireless technology that is capable of doing things beyond what Wi-Fi can do," said Ali Sadri, president of WiGig Alliance and director of millimeter wave technology at Intel.
Sadri was speaking during a keynote address at Intel's Developer Forum in San Francisco and gave examples of video connections to monitors and TVs, PCI Express and SDIO as some of the interfaces WiGig could replace.
WiGig runs on spectrum in the 60GHz band — frequencies considerably higher than today's Wi-Fi and suitable for short-range communications but highly susceptible to interference or blocking over longer ranges.
During the demonstration the technology initially failed to work, a problem blamed on the demo laptop going to sleep while it was sitting on stage waiting to be used. (See the demonstration, and failure, in this YouTube video.)
When it did eventually work, Sadri demonstrated a WiGig link between a hard-disk, laptop computer and two monitors. The laptop, which was running on battery power so it had no wires attached, was streaming video from the hard disk and displaying it on the computer desktop, which was being displayed across two monitors.
The demonstration was impressive but WiGig isn't the first standard that's promised to rid the world of cables. Previous technologies have failed to catch on or come to market and WiGig was originally promised in 2010 but failed to materialize.
Now the technology, backed by Intel and a number of other big names in the computer industry, is "very close to reality," said Sadri.
A certification program for WiGig gear is expected to begin in the middle of 2013 with products following later in the year, he said.
Earlier in July the technology received a boost when Marvell Technology Group, a major manufacturer of Wi-Fi chipsets, said it plans to offer chips with WiGig support. Another chip maker, Atheros, had earlier said it plans similar chips.
Martyn Williams covers mobile telecoms, Silicon Valley and general technology breaking news for The IDG News Service. Follow Martyn on Twitter at @martyn_williams. Martyn's e-mail address is martyn_williams@idg.com