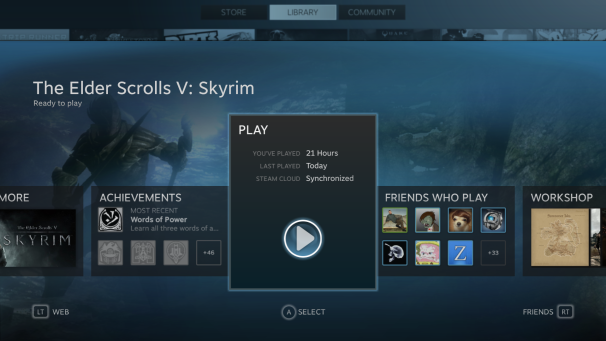 The big news out of Valve this week is their move into the living room with a new version of Steam. I got a chance to poke around Steam's new Big Picture beta and while I was impressed by what I saw, I don't think this is the ultimate solution to gaming on the TV some may be hoping for.
If you're not familiar with Big Picture, it's a new beta product released by Valve on Monday that promises to make the company's Steam gaming platform more TV-friendly. And it succeeds at that challenge: The Big Picture interface apes the best interface tricks of set-top boxes and game consoles. Big bright buttons with stripped-down and easy-to-navigate interfaces abound.
Most impressively, Valve has implemented a new lotus keyboard method for typing without a keyboard that uses the thumbstick of your Xbox or PS3 controller to let you type. Instead of laboriously navigating to each letter, you navigate to a general part of the alphabet by pressing in a general direction on the stick and then move in a second direction to choose a specific letter with your second stick.
It's more complicated to explain than the typical on-screen keyboard, but in action it's both faster and more elegant.
The problem with Big Picture isn't with Steam's design but with my own set-up. It's an ideal solution for gamers with a very specific tech loadout. A big TV relatively far (but not too far for screen-mirroring) from their PC that's loaded up with the kinds of FPS and casual games that translate easily to a controller. With my small apartment and eclectic taste in games, Big Picture is more of an interesting diversion than a new way of gaming.
In some sense it's unfair to knock Valve for failing to release a beta product that's all things to all people, and I want to stress again that Big Picture does some truly impressive things. The lotus keyboard in particular is an interface innovation I expect to see on every set-top box and game console in a few years. Still, if I want more from Big Picture it's because Valve certainly seems to be expecting (or at least hoping) for more from it as well.
In their press materials concerning the new beta Valve has repeatedly claimed that they're looking to see what users will do with the new mode. While I didn't find a place for Big Picture with my specific tech set-up, Valve did a great job on the design and interface front that makes me excited to see what users will come up with for it as well.
The natural question that most of the gaming and tech press has asked in response to Big Picture is "what does this mean for the Steam box?" Valve's rumored entry into the hardware market is still reportedly forthcoming (though, like every other Valve product, they don't seem to be in a hurry to release it) but focusing on the hardware implications of Big Picture misses the point.
Tech companies have spent the last decade trying to find the ideal solution for tying together our gaming lives and our televisions. Console makers have faced the opposite problem of figuring out how to bring the best aspects of our computers into the living room. Any Valve hardware would face the worst of both worlds, trying to bring PC gaming to the living room without losing anything we like about either.
It's an even more challenging version of a problem nobody seems to have solved to the market's satisfaction, because different users want their TV and their PC to interact in different ways.
By letting users roll their own solutions to the hardware problem of getting gaming onto their TVs, Valve gets the chance to have users figure out the best ways to tie our televisions and PCs together for them. Even better, they get to do it without the expensive hardware investments. The beta version of Big Picture mode won't revolutionize your gaming experience, but it works well and raises some intriguing questions about the future of PC gaming.