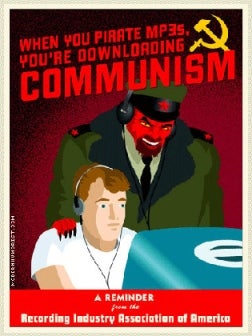 On Thursday, a 40-year-old Frenchman was summoned to court in France for illegally downloading pirated music. The only problem? He didn't do it, and he even brought the actual infringer — his soon-to-be ex-wife — to court with him to testify.
Though his wife admitted, in court, to illegally downloading two Rihanna songs, Alain Prevost was still fined for failing to secure his Wi-Fi network. According to French media reports, when Prevost tried to explain what had actually happened, he self-incriminated himself by admitting he knew his wife downloaded the songs.
Prevost was consequently found guilty under a controversial French anti-piracy law known as HADOPI (Haute Autorité pour la diffusion des œuvres et la protection des droits sur internet). HADOPI law follows a three-strike policy — that is, under HADOPI, alleged copyright infringers are warned three times before they're punished by a fine of up to 1500 euros ($2000).
The three strikes are as follows: first, an email message is sent to the alleged offender; if the alleged offender illegally downloads copyrighted material again within the next six months, a certified letter is sent to the alleged offender. If the alleged offender does not stop downloading illegally within one year from the receipt of that letter, the offender's Internet Service Provider (ISP) is required to suspend their Internet access.
According to TorrentFreak, copyright owners have identified a total of three million French IP addresses associated with piracy since October 2010. Of these three million IP addresses identified, 1.15 million were eligible for a first strike, 102,854 eligible for a second strike, and 340 eligible for a third. Fourteen of the 340 were referred to French prosecutors.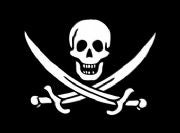 According to Mark Rees of PCInpact, speaking to TorrentFreak, Prevost was warned three times under HADOPI law, and did not respond to any of those warnings. I'm going to go out on a limb and suggest that Prevost didn't respond to any of these warnings because he wasn't actually doing anything wrong.
Prevost, speaking to PCInpact, says he received the first and second warnings. He says he sent a letter to the HADOPI agency through his wife's lawyer. However, since he was going through a divorce at the time, he actually took the pre-emptive step (after receiving the first two warnings) of taking himself offline. Since the HADOPI agency continued to follow-up through email, he never received them (because he had no Internet). He was then summoned to Paris to explain himself, but he didn't want to pay the cost of travel for such a (what he assumed) trivial matter.
Thus, he was accused of ignoring the HADOPI agency and was summoned to his local police station. He explained that he had not downloaded anything and that his wife was likely the person they were looking for. He then had his computer cleaned (for a fee of 50 euros, or $64), but he still ended up in court.
His wife was in attendance at this latest court appearance, and she admitted she downloaded the songs. But, since he was the first one to say it — that his wife had done it — and without a lawyer, he ended up incriminating himself by admitting he had known what was going on and had done nothing to prevent it.
Prevost was found guilty of failing to secure his Wi-Fi network, and was fined a flat fee of 150 euros ($200). The court did not move to terminate his Internet connection altogether, a move which is actually a provision of the third strike of HADOPI law. In the third strike, after the alleged infringer's ISP suspends their Internet account (for a period of between two months to one year), the user can also be blacklisted from signing up with other ISPs.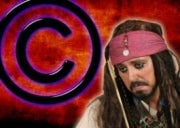 Speaking to Prevost's hometown newspaper, Le Pays, HADOPI head Marie-Françoise Marais said that very few cases have been brought to court under HADOPI. Prevost's case was the first of just 13 that will see court appearances later this year. According to Marais, HADOPI has thus been a mission of "education, not of repression."
The problem with piracy laws
This case is a very good example of how anti-piracy laws are, quite frankly, not effective at all. Not only is Prevost innocent, he wasn't even online when HADOPI contacted him for the third strike. And though his wife was the one doing the illegal downloading, she's not exactly guilty of facilitating wide-scale file-sharing — she downloaded exactly two Rihanna songs.
"If the defendant was someone who was downloading a significant amount of content, he would have taken a few minutes to analyze his Internet connection — in essence, he is being fined for not being a large-scale, tech-savvy downloader," Joe McNamee of European Digital Rights tells Ars Technica. "The penalties imposed by HADOPI are almost designed to be as disproportionate and unfair as possible."
Six strikes law set for US in 2012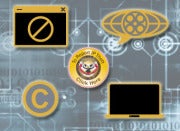 Instead of punishing serial pirates, laws such as HADOPI punish un-tech-savvy people who may or may not have nabbed a song or two from the Internet. I'm not saying that any type of illegal downloading is okay, but this type of law is clearly doing nothing to stop real, problematic piracy. And if you think this three-strike system is limited to France, think again — an anti-piracy program commonly known as "six strikes" is set to launch in the United States by the end of this year.
The Copyright Alert System, or six strikes, isn't the same as HADOPI. Unlike HADOPI, the third and fourth email warnings will feature read receipts to ensure they're seen by the alleged offender. ISPs will also not be required to cut off users' Internet service at the end of the six strikes, though they will have the option to do so. ISPs will also not be required to hand over subscribers' information, except as required by subpoena or court order.