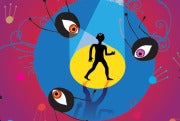 Google has added a Do Not Track privacy option to Chrome's developer channel, though it's late to the party compared to other browsers.
When Do Not Track is enabled in a browser, it signals to Websites and to advertisers that the user doesn't want to be followed around the Web for ad targeting purposes. Ad networks and sites aren't required to comply, but several of them do, and the U.S. government is now pressuring more companies to play along, including Google.
Hence Do Not Track in Google Chrome. Google spokesman Rob Shilkin specifically called out the company's pact with the White House as its reason for adding the feature in the Chromium developer channel in a statement to All Things Digital. Do Not Track should be available in the stable version of Chrome by the end of the year, he said.
Google will be the last of the major browser makers to add a Do Not Track option, which is already available in Firefox, Internet Explorer and Safari. Third-party Do not Track browser tools are available as well.
Broad participation may seem like good news, but Do Not Track is still controversial. Because the setting doesn't guarantee privacy across all Websites, it could give users a false sense of security, and the seediest advertisers may never participate.
Do Not Track also treads on thin ice among advertisers who do participate. They're hoping that even if the tool is widely available, most people won't bother to enable it. Microsoft's recent decision to make Do Not Track the default setting for Internet Explorer 10 in Windows 8 jeopardizes that idea. The developers of Apache Web server have already said they'll ignore IE10's Do Not Track settings as a result.
Still, an anti-tracking standard across all browsers seems like a good foundation for improving users' privacy options on the Web. It's good that Google has joined in, even if it was under government pressure.
Follow Jared on Twitter, Facebook, or Google+ and follow Today@PCWorld on Twitter for even more tech news and commentary.