[These days, keeping up with games can be a full-time job. So how do you separate the signal from the noise, the wheat from the chaff, the Temple Runs from the Temple Jumps? Allow us to help by regularly selecting a game You Should Play.]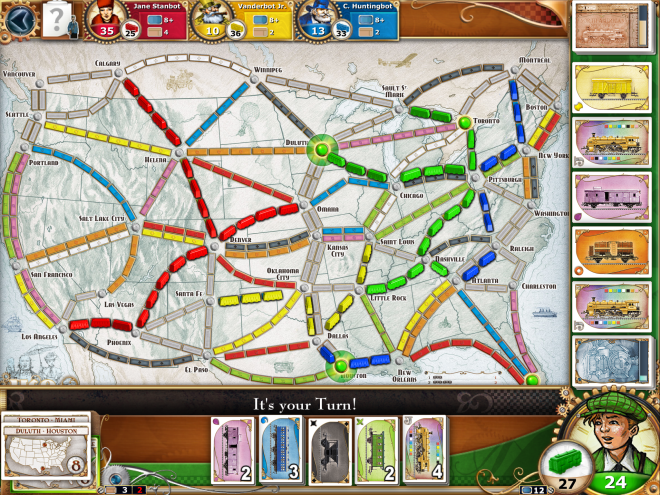 While I've previously mentioned my passion for board games, I have cleverly avoided outing my love of trains. The folks at Days of Wonder have managed to combine these two interests into a single attractive package with the venerable Ticket to Ride.
Based on the board game of the same name, Ticket to Ride's digital versions (and yes, there are many of them) do an admirable job capturing the experience of the game, which puts you in the wingtips of a late-19th century railroad baron. Your job? Place train cars on a map, complete routes, and amass untold points.
For those who've already experienced the real-world version of Ticket to Ride, the digital edition offers no surprises, but it does offer an atmospheric adaptation that translates surprisingly well on touch devices like the iPhone and iPad.
Newcomers should have little trouble getting the hang of things. At the beginning of the game you pick two or three routes that you will try to build; they might be regional ones like Vancouver to Santa Fe, or cross-country routes like Los Angeles to Miami. On your turn you can either claim a leg—a line connecting two cities—by playing cards of a matching color, or you can draw two new cards.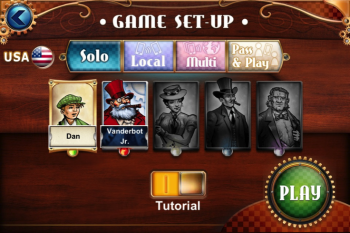 As you complete routes, you have the option to pick new ones, but it's always a bit of a gamble, as you have only a limited number of train cars to place. And of course, you're hardly alone: Anywhere from one to four opponents are attempting to place their own routes at the same time, and some of them might have designs upon the very same track you've been eyeing. At the end of the game, the winner is the one who's collected the most points for their routes.
A simple premise with an occasionally challenging execution is the making of many a good board game, so what sets Ticket to Ride apart from the competition?
Solo: Want to learn the game, or hone your skills? Ticket to Ride includes multiple AI opponents, each with their own personality. Some of them are pretty easy, but they can still be challenging—especially when you've got five players vying for a limited amount of board space.
Multiplayer: Sure, you can face off against the built-in AI, but after a few games, you probably won't find most of the computer players very challenging. That's when you drag in a few friends—or strangers—thanks to Ticket to Ride's many multiplayer modes. In all versions of the game, you can play online via a free Days of Wonder account; the iOS versions also let you bring in your Game Center friends or play locally against other friends on their own devices. Both the computer and mobile versions also let you compete in a single-device hot seat or pass-and-play version.
Pervasive: Mac, Windows, iOS, even the Web—seems like there's a Ticket to Ride for pretty much every platform. There's really little excuse for not giving the game a shot. And for some real fun, and entirely made-up bonus points, try playing Ticket to Ride on an actual train.
Expandable: The game's standard U.S. map is all well and good, but let's not be so America-centric. Several game expansions are available, including maps for Europe and Switzerland. Both include additional rules, such as tunnels and stations. There are also a few variations of the U.S. map that add different route cards to the mix. (Sadly, expansion purchases don't carry over between multiple versions of the game.)
Quick: A full game of Ticket to Ride doesn't take too long—usually around half an hour, if everybody's making their moves fairly promptly. The exception to that can be the asynchronous play mode that's available only in the iPhone version of the game, where I've had games stretch the better part of a week.
Developer: Days of Wonder Platforms: iPad, iPhone, Mac, Windows, Web Price: $7 (iPad), $2 (iPhone), $10 (Mac), $10 (Windows), Free (online)